Sometimes we all feel a bit like Shutting Down. So just imagine how tired Windows 7 is
So many stuck trains, so many cancellations. Giant blue screen of Nope, we salute you.
Bork!Bork!Bork! Microsoft Windows sums up the spirit of many readers today, in a railway-infused bork from Manchester.
Brits have long had to endure the notoriously bad rail services, which are prone to delays and cancellations. Sometimes it gets too hot. Sometimes it gets too cold. Occasionally there is a sprinkling of leaves on the tracks.
Any or all of this can result in the rail services "doing a Windows", which in this case means inconveniently shutting down.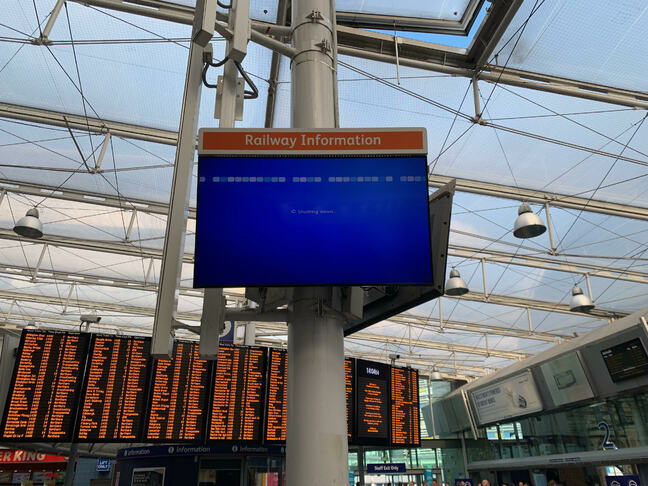 Click to enlarge
In the screen above, a Railway Information display in Manchester Piccadilly station (spotted by keen-eyed Register reader Mark Hewitt), it looks very much like Windows 7 is giving up the ghost. Frankly, the operating system is now so far out of support (as of January 2020) that pulling the plug seems the only humane thing to do. That is, unless somebody drops some serious cash on Microsoft's extended security support options for the OS.
Throwing extra cash at the problem, some might argue, would be overkill, but then again, so is using Microsoft Windows when it comes to digital signage.
We're not sure what has caused the shutdown. We've no doubt many of you have experienced the delight of Windows 7 unexpectedly deciding it needs a sleep at inopportune moments - that's when it didn't simply refuse to shut down.
The unexpected, unscheduled sleeps tend to happen when an ever-so-important update had been downloaded from the Windows mothership and so of course a full power cycle was needed. Sometimes it would happen when you'd forgotten to plug in the laptop. You'd get a small window popping out with notification for you to save your work with a countdown from 60 seconds, even with 20 per cent charge left on the battery.
We don't think either of these is the case... updates aren't so much of a thing for Windows 7 these days and we'd all hope the Railway Information signage isn't attached to a laptop.
Perhaps it is a human behind the scenes, shutting down that weird beige box under the desk without realising its significance (even if those on the station concourse might be able to take a guess.)
Either way, as we pass the 565th March 2020 (it has been 552 days since 13 March, 2020, the first lockdown in the UK), and autumn and winter loom in the northern hemisphere, it is hard not to sympathise with Windows 7. Shutting down indeed. ®