Top dog Dell barked loudest in IDC's latest server quarterly tracker, overtaking HPE in both revenue and units, while white boxes made a strong showing on hyperscalers' shopping list.
In the lower ranks Inspur surpassed Huawei, Lenovo and Supermicro. But ODMs dwarfed all individual suppliers as hyperscale buyers drove the white-box sector to new heights.
First 2018 quarter revenues for the worldwide server market increased 38.6 per cent year-over-year to $18.8bn while units shipped went up 20.7 per cent to 2.7 million.
Here are the revenue numbers for the top five suppliers, ODMs and others: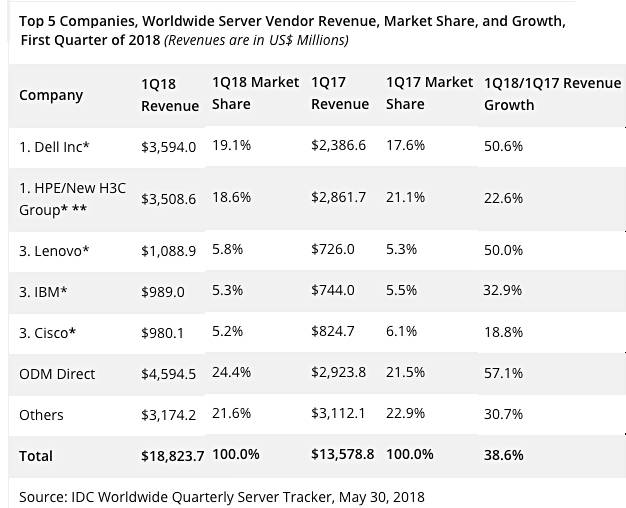 Sanjay Medvitz, IDC's senior research analyst for Servers and Storage, said:
"Hyperscale growth continued to drive server volume demand in the first quarter. While various OEMs are finding success in this space, ODMs remain the primary beneficiary from the quickly growing hyperscale server demand, now accounting for roughly a quarter of overall server market revenue and shipments."
The analyst has charted the changes over the past five quarters: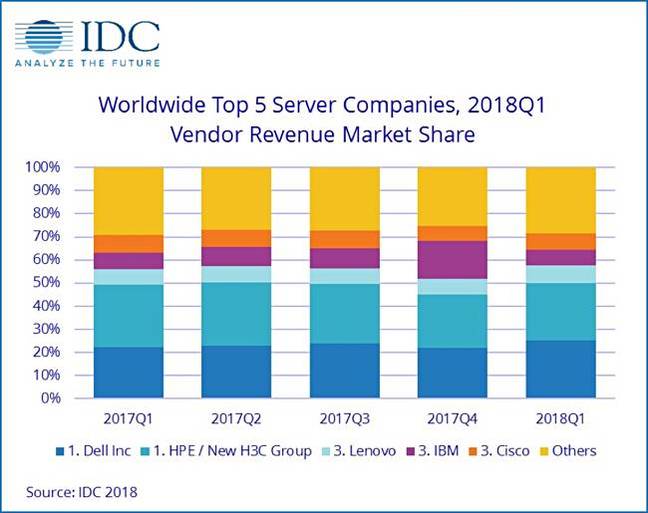 Shipped server units
HPE quits cloud servers, two weeks after telling El Reg it wouldn't do that
READ MORE
The IBM bulge last quarter was due to its mainframe refresh. HPE and Dell tied for the top supplier revenue place, with Dell growing revenues more than twice as fast as HPE.
The x86 server demand grew 41 per cent to $17.4bn. The non-x86 market grew 15.5 per cent to $1.4bn.
Regionally China grew 67.4 per cent, Japan a lowly 2.9 per cent, and Asia-Pacific (minus Japan) 51.7 per cent. Latin America grew 41.1 per cent, the US 40.6 per cent, EMEA 35 per cent, and Canada 28.3 per cent.
Dell was well above HPE in shipped units terms as HPE abandoned the hyperscaler market because margins are too tight: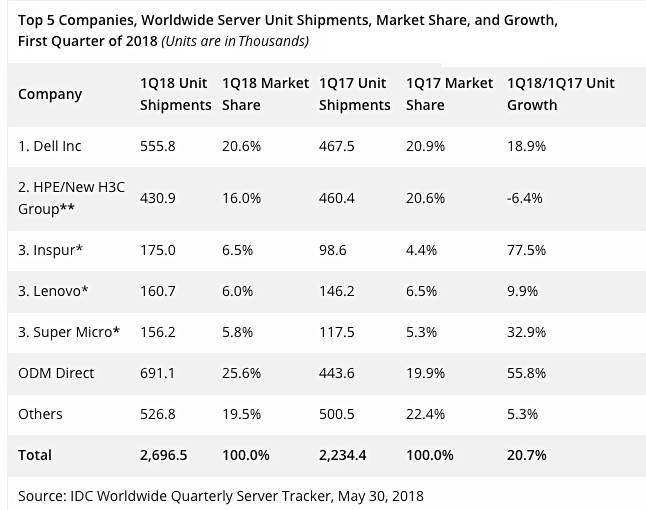 Supermicro and Inspur are outgrowing the market, Inspur in an outstanding way. The ODMs shipped more units than Dell, while the Others category outstripped HPE.
Huawei featured in this list last quarter; it has dropped out now, shipping too few units to make the top five. ®
Similar topics