This article is more than 1 year old
How long till some drunkard puts a foot through one of BT's 'iconic, digital smart city communication hubs'?
Phonebox upgrade dishes out internet and more in Kensington and Chelsea
BT was joined by local dignitaries including the Mayor of Kensington to cut the silk sash on its 21st-century phone box that gives people access to free Gigabit Wi-Fi, rapid mobile phone charging, and free calls if needed.
The BT Street Hub 2.0 unit is now up and running in Notting Hill Gate with others due to be unveiled in the London borough of Kensington and Chelsea shortly.
The pods are also plastered with advertising, with BT trumpeting that it's giving small businesses the chance to snap up £7.5m of free street advertising space as part of its launch promo.
Of course, with its focus on being the UK's top telco, BT couldn't manage the whole project on its own. Instead, it hooked up with hardware supplier Trueform Digital and Manchester-based ADXBA to work on the project. Global – the media and entertainment group – was appointed digital advertising partner to complete this creative boutique.
The hubs have been described as "iconic, digital smart city communication hubs" with creative roots that tap into modern, edgy, urban street design.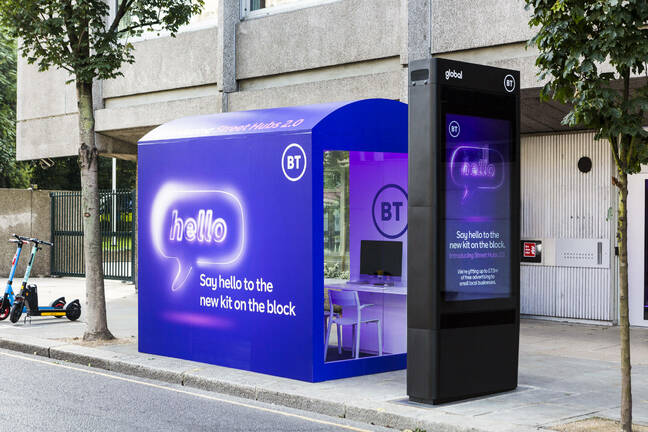 'Iconic' – though perhaps not as Instagram-friendly as the retro boxen visitors to the UK expect
Over the next 12 months, some 300 new hubs are to be rolled out in places such as Glasgow, Cardiff, Nottingham, Birmingham, Solihull, and Southampton – as long as they can get the green light from local planners, that is.
For council officials in Derby, they seem less concerned with green lights as, erm, red ones.
The mayor of Derby – where BT is seeking planning permission for a number of hubs – has been less than impressed with the idea of these digital boxes landing on the streets of his city.
Earlier this month, the Derby Telegraph reported that he was unhappy at the application and questioned the need at a time when most people have their own mobiles.
He was also quoted as saying that the only people using phone boxes today were "either drug dealers or prostitutes."
Asked to comment on the remarks, a BT spokesperson told us: "We will continue to work collaboratively with local authorities as we look to install Street Hub 2.0 units across the UK." ®