This article is more than 1 year old
Space tourists splash down in Atlantic Ocean after three days in orbit
Some sightseeing, music, gambling, chatting to folks back home – just like a regular roadtrip
The space tourist crew who spent three days orbiting Earth in a SpaceX Dragon capsule has returned to our planet in one piece.
The gang, dubbed Inspiration4, splashed down in the Atlantic Ocean off the Florida coast just after 1900 EST (2300 UTC) on Saturday. They were checked over by doctors and flown by helicopter to land.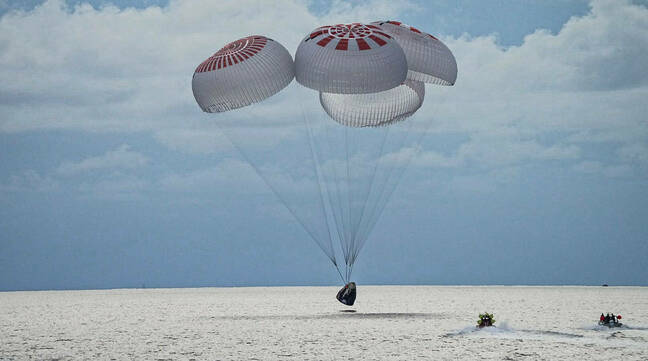 Splashdown ... The Inspiration4 capsule makes it back to Earth. Source: Inspiration4
If you want to relive their descent, there was a livestream here.
On Wednesday, the crew blasted off from Kennedy Space Center's Launch Complex 39A atop a SpaceX Falcon 9. They reached an altitude of 363 miles (585 kilometres), further out than the International Space Station.
The team – Jared Isaacman, Dr Sian Proctor, Hayley Arceneaux, and Christopher Sembroski – effectively completed the first all-civilian human spaceflight to orbit. None of them were traditional professional astronauts, and the capsule was largely automated, leaving them to observe our home world from a bubble-shaped window. SpaceX hopes to launch as many as six private flights a year as well as runs into orbit for NASA.
The trip was intended to raise $200m for Memphis-based St Jude Children's Research Hospital, which specializes in tackling cancer among other things. Inspiration4 said it raised nearly $154m, and SpaceX supremo Elon Musk added he would donate $50m, taking them over their target.
Over the radio, SpaceX mission control told the crew their journey "has shown the world that space is for all of us."
Isaacman, the 38-year-old billionaire payment processing system tycoon who paid tens of millions of dollars to cover the cost of the jaunt and likes to fly military jets in his spare time, replied: "It was a heck of a ride for us."
Happy. Healthy. Home.

Welcome back to Earth, @ArceneauxHayley, @rookisaacman, @DrSianProctor, and @ChrisSembroski!#Inspiration4's mission doesn't end here — help us reach our $200 million fundraising goal for @StJude! https://t.co/NBUL2e3f4x pic.twitter.com/hhNQydWVJJ

— Inspiration4 (@inspiration4x) September 19, 2021
Pictured above, alongside Isaacman, is Proctor, 51, a community college geology professor who, due to her role in the journey, is the first Black woman to serve as the pilot of a spacecraft; Arceneaux, 29, a St Jude physician assistant, and the youngest American in space, the youngest person in sustained orbit, and the first with a prosthesis; and Sembroski, 42, a reliability engineer at Lockheed Martin who was seen calmly watching the movie Spaceballs on a tablet prior to liftoff.
Proctor won an online entrepreneurial contest run by Isaacman for a place in the capsule; Sembroski was given his ticket by a friend who won it in a sweepstakes; and Arceneaux, a cancer survivor herself, was chosen for her connection to the hospital.
The team trained for six months for the flight, learning what to do in case anything went wrong. While in orbit, they performed some medical tests, played some music and created artwork, spoke to St Jude patients, rang the closing bell for the New York Stock Exchange, and placed the first-ever sports wagers from space.
And they spoke to Tom Cruise, who also wants to go into orbit with SpaceX. And U2′s Bono. ®