This article is more than 1 year old
A Burger King where the only Whopper is the BSOD font
Come for the bork, stay for the burger
Bork!Bork!Bork! Bork goes back to its roots today, with a screen of purest blue showing its unwanted face outside a US Burger King branch.
At least it makes a change from McDonald's, very much the DNS of Bork when it comes to failures.
In this instance, it looks like it is the exterior signage, normally showing a slideshow of tasty (and frequently greasy) treats, that has succumbed to the curse of Microsoft.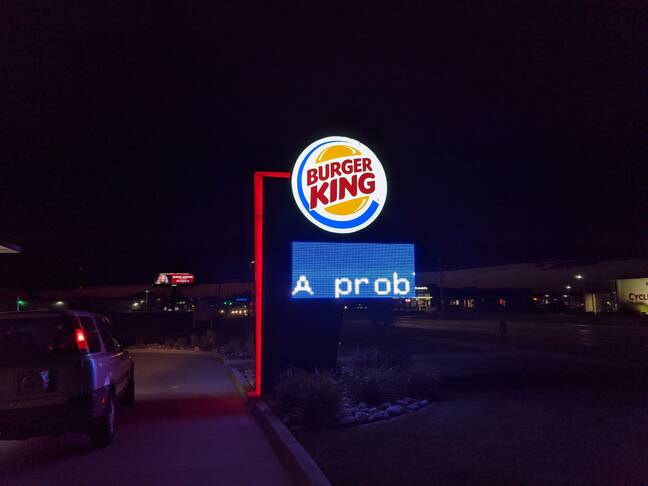 Click to enlarge
"That color... That font..." said Register reader TD, who spotted the unhappy sign. TD pulled into the parking lot to snap the scene, but did not say whether a purchase was made.
Perhaps, therefore, this is some new marketing wheeze by the patty pusher: come for the bork, stay for the burger? Or, more likely, Windows has tired of being put to use as a glorified sign flipper and taken its vengeance by flipping its own special sign (via the Blue Screen of Death).
With so little detail available, it is difficult to speculate on what has befallen the screen. We'd guess the operating system is Windows 7, or possibly Windows XP (judging by the font) and either a bit of hardware has given up the ghost, or the software running the slideshow has strayed somewhere where Microsoft would rather it didn't.
The BSOD itself is a bit of an endangered species nowadays. Microsoft redesigned it in more recent incarnations of Windows to be less alarming and instead feature a sad face emoticon rather than a screenful of apparent gibberish to frighten the horses.
Still, it is a comfort to know that in the Iowa city of Cedar Rapids, some of the old ways are still holding their own. Even if Windows has most definitely fallen down. ®