This article is more than 1 year old
Is it a bird? Is it a plane? Nah, it's just Windows suffering from a bit of vertigo
Up above the streets and houses, XP's flying high
Bork!Bork!Bork! Windows XP continues to hang in there – quite literally – as the operating system does what it does best some 90 metres above the London's River Thames.
The screen, spotted by Register reader Andy Jones while safely ensconced within the confines of an Emirates Air Line gondola, appears to be in something of a boot loop. It looks to be endlessly resetting as the UK capital city's cable car attraction grinds itself along the kilometre or so between the Greenwich Peninsula and the Royal Docks.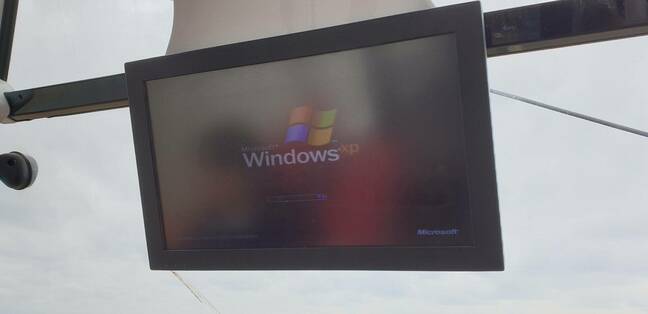 Pic courtesy: Andy Jones (click to enlarge)
Quite what Windows XP is doing up here is anyone's guess. The cable car was opened with much fanfare back in 2012, when the writing was very much on the wall for Microsoft's veteran operating system. Support for most mainstream versions officially ended in 2014, although embedded and kiosk versions lingered for a few more years.
Still, while "crash" and "cable car" are words few like to see in the same sentence, Windows XP is clearly not in a happy place. The Register asked Transport for London (TfL) if the operating system had since been put out of its misery, but we have yet to receive an explanation.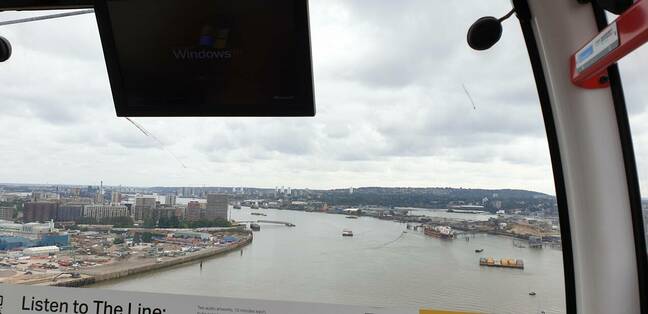 Behold the majestic skyline. And Windows XP... Pic: Andy Jones
In the meantime, TfL has been trumpeting the two new underground stations opened on London's Northern Line, perhaps forgetting the new connectivity afforded by the cable car when it opened less than 10 years previously. Then again, 2012 and the UK's hosting of the Olympics does seem a terribly long time ago now.
Despite its presence on TfL maps of London transport (on the grid at G3/G4), the Emirates Air Line is not a part of the London travelcard system, meaning a separate ticket is required for passengers keen to travel many metres above, rather than below, London. The cost for a single jaunt starts at £4 for adults (or £2 for a child) although a "Discovery Experience" permits a passenger to savour the delight of travelling from one end to the other and back, receive an inflight guide, and visit the Emirates Aviation Experience. Multi-journey passes drive the price down further.
The Emirates connection seems set to come to an end next year. There's no word on who the new sponsors might be, although we can't help but wonder if Microsoft might step in.
Slapping a Windows 11 logo over a hubristic folly that nobody asked for seems somehow appropriate. But what about the cable car? ®