This article is more than 1 year old
Scientists took cues from helicopter seeds to invent tiny microchips that float on wind
'Microfliers' could carry sensors to monitor air pollution and more
Video As autumn arrives in the northern hemisphere, scientists have shown how tiny connected semiconductors can be distributed on the wind in a similar way to the seasonal spreading of airborne seeds.
Researchers led by Professor John Rogers of the US's Northwestern University designed printed circuits able to manifest rotational behaviours, as seen in helicopter and spinner seeds, that enhance the stability and flying behaviour.
In a paper published in Nature this week, they argue that simple electronics can be integrated into the designs, with one example containing a circuit to detect airborne particles.
In simulations and wind tunnel experiments, the researchers examined how aerodynamics are affected by changing design parameters such as the diameter, structure, and wing type of the flyers ranging from the microscale, below 1mm, to the macroscale, above 1 mm.
The researchers claim to have demonstrated a range of 3D spinning seed-like devices which can house active electronics and sensors that could be used for environmental monitoring.
Speaking to The Register, Rogers said the greatest opportunities for applications are likely to be detecting airborne pollution, ground-water contamination and agricultural agents, for example. Tracking pathogens and the spread of diseases – where large-scale, distributed arrays of miniature sensors would be useful – might also be possible.
"We are working to incorporate more sophisticated sensors, with a focus on biological pathogens, particulate pollution and heavy metal contamination of groundwater," he said. "The main pitfall is the passive nature of the dispersal scheme – the corresponding advantage is in cost and simplicity compared to systems that might incorporate flapping wings for instance."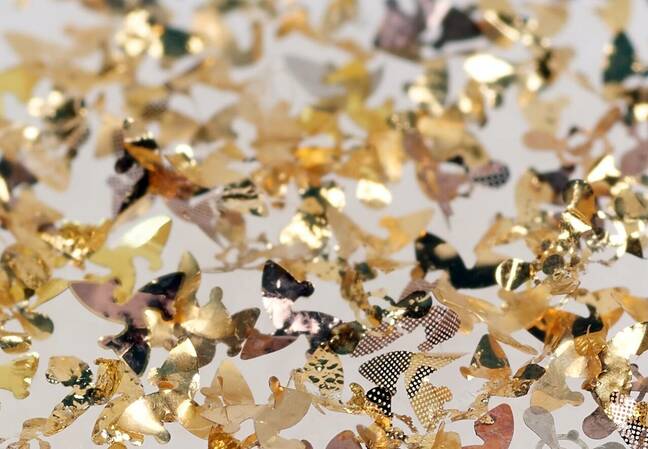 A collection of 3D microfliers
Many might think that freely distributing more micro-electronics into a world already suffering from plastics pollution might be a bad idea. But Rogers said the team had already produced environmentally degradable versions of the devices "as a way to address this very important issue."
The flyers might cost anything between 1 and 20 cents, depending on the payload, he said.
In an accompanying article, Elizabeth Farrell Helbling, assistant professor at Cornell University's Department of Electrical and Computer Engineering, said: "These devices could form dynamic sensor networks for environmental monitoring, wireless communication nodes or various other technologies based on the network of Internet-connected devices called the Internet of Things."
While more work needs to be done to understand how the flyers would behave in the wind and to explore alternatives based on parachute and glider-type flyers, she said: "As a roboticist focusing on the development of autonomous insect-scale systems, I am excited about the questions posed by the authors' microscale robotics technology." ®