This article is more than 1 year old
Amazon's AI chips find their way into Astro butler bot, latest wall-hanging display
$1,500 gets you a robo-dog that can't handle stairs ... so here's a flying camera, too
Video Amazon has created another custom chip to speed up artificial intelligence in its home electronics.
On Tuesday the online souk and cloud computing giant introduced a bunch of new gadgets, including a robot and a wall-mount home-organizing computer, with AI hardware acceleration that can personalize the equipment to your daily routines and habits.
The latest chip in question is the AZ2 "neural edge" processor, which will be in the company's new Amazon Echo Show 15 touchscreen device, a 15.6-inch smart display for your wall that can be a digital organizer or a TV. The AZ2 will help the computer recognize your face, and immediately load up a personalized screen for you that may include to-do-lists, sticky notes, calendars and more. The display will also have voice recognition features accelerated by Amazon's silicon.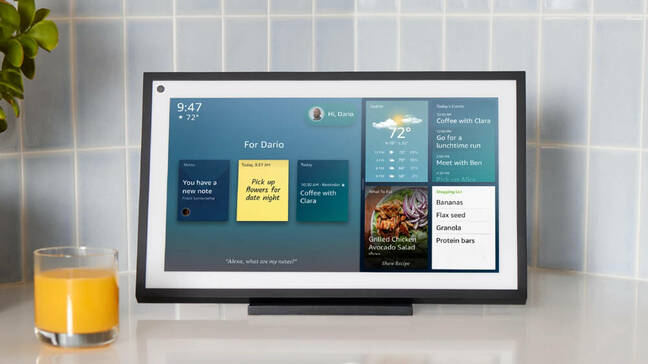 Facial recognition for the kitchen ... The Echo 15 in stand mode. Source: Amazon. Click to enlarge
The AZ2 apparently performs calculations 22 times faster than its predecessor, the AZ1, which was made in partnership with MediaTek and included in the Echo Show 10. The AZ2 will be fast enough to process AI applications like voice recognition locally without relying on cloud servers, Amazon said. The ability to process voice operations on the device may give users more control over their data privacy, which was a recurring theme at today's big launch event.
The custom AI accelerator will be paired with an Amlogic PopcornA octa-core system-on-chip in the gizmo; Amlogic is an Arm licensee. As far as we can tell the Echo Show 15 is the only product right now to use the AZ2, though we expect to see it in more gear.
The Echo Show 15 is priced at $249.99 and will be available later this year.
Alexa goes mobile with the Astro
Amazon also introduced Astro, an 20.6lb autonomous camera-fitted Alexa-powered robot with a 1280 x 800-resolution touchscreen that swivels as required. It is loaded with AI hardware and software that fuses computer vision, autonomous navigation systems, and voice recognition into a box-on-wheels, we're told.
The robot, like regular Echo devices, can respond to voice commands and do regular Alexa things, like show the weather and play music. It can also can map out a house and navigate to rooms and deliver up to 2kg of cargo at a time as ordered. In the default spec, two cupholders are built in for this task. For navigation, the system has SLAM (Simultaneous Localization And Mapping) and obstacle avoidance systems to create a rough 3D map of its surroundings to chart a route through your home.
Astro moves at human speeds, and can be used to scout the place at night to some degree, check on an elderly person, or help you keep an eye on your stuff while you're away. Like a Dalek from Doctor Who, it can't go up stairs, and could be kicked down them if it doesn't already fall down the steps.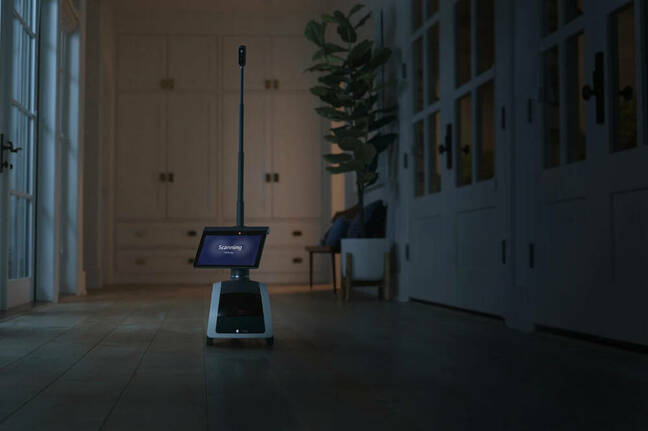 Robot guard dog checks the house, or one floor of your house ... The Astro. Source: Amazon. Click to enlarge
The machine sports a 42-inch periscope camera that can be raised as needed and used to, say, check if a stove is shut off.
Like the Echo Show 15, the robot also uses computer vision to recognize faces and load personalization features. It can also interface with Amazon's Ring home security systems and be controlled remotely via a phone app. It's driven by two Qualcomm QCS605 system-on-chips, one Qualcomm SDA660, and the earlier AZ1 component.
According to Vice today, which cited engineers who said they worked on the product, Astro's person-recognition system is or was unreliable, the system tracks everyone around it, and it's not suitable for home security and accessibility: it can accidentally throw itself down stairs, its mast camera can get stuck, and the device feels fragile, it's claimed.
"Astro will get smarter and more capable over time," Dave Limp, senior vice president at Amazon, promised during a webcast.
Astro will be priced at $1,499.99, and has an introductory price at $999. Users can sign up to request an invite to buy it. Amazon plans to start shipping the device later this year.
And the rest
For those that want a mobile camera that can handle stairs and act as target practice for pets, Amazon also shared more details of its Ring Always Home Cam, teased last year as a security drone with a camera that can fly around the house. It will ship soon starting at $249.99, and users can sign up for an invite to receive the product early, which you can see in action below.
Amazon also announced other devices including the Amazon Glow, a $249.99 gadget with an eight-inch screen and a 22-inch flatboard on which kids can remotely play games and learn.
The Halo View is a fitness band that can display health metrics and workout tracking, and is priced starting at $79.99.
The internet giant also announced new Ring products, including Ring Alarm Pro, an alarm system that tries to protect against break-ins, and has a built in Eero Wi-Fi router that can provide backup internet connectivity via the cellular network.
All major hardware makers, including Amazon, Microsoft, Intel, and Google are developing AI chips for different applications. Expect to see more of this stuff in the run up to Christmas. ®