This article is more than 1 year old
Take a look, and you'll see... Windows XP? Bit of Dairy Milk, Fruit and Bork at Cadbury World
It's quite the show at the OTHER chocolate factory
Bork!Bork!Bork! Some habits are hard to shake, and more than one tourist hotspot is having a heck of time leaving Windows XP behind, as today's confection of bork shows.
Following last week's shame at 300 ft from an Emirates cable car travelling over the Thames, the latest installment comes from Reg reader Ben who was "enjoying" a trip to Cadbury World (a chocolate-themed attraction) over the weekend with a car-load of poppets in tow.
His description of his visit carries the distinct whiff of a one star TripAdvisor review, but readers will be delighted to learn that an old friend was lurking within the walls of the "Bournville Experience".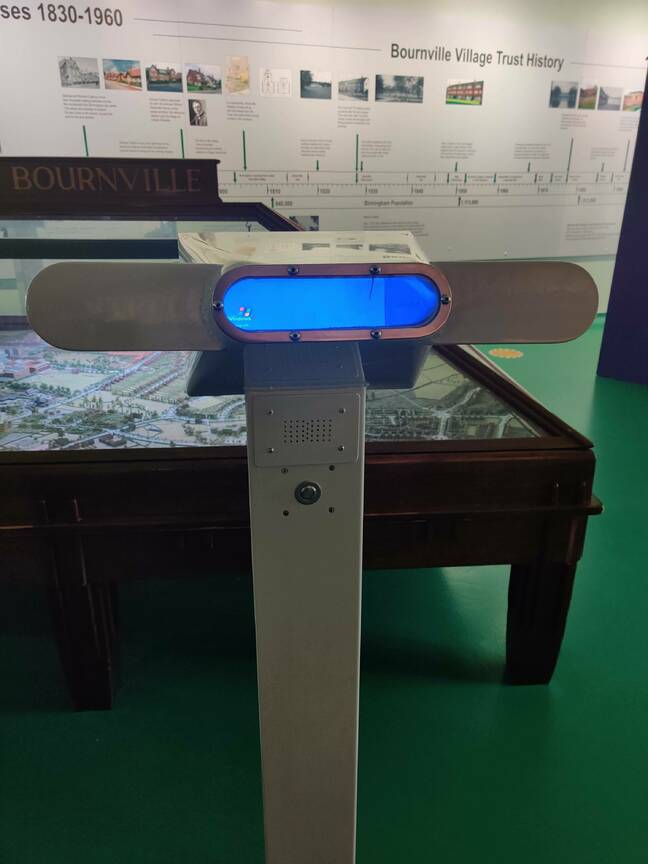 Click to enlarge
Having dodged the nostalgic marketing gems of "Advertising Avenue" and managed the expectations of children hoping for Charlie and the Chocolate Factory with a trip to Cadbury's Aztec Jungle, Ben was keen to enjoy a bit of me-time and learn more about the development of the Bournville Village.
A noble cause: the village was developed in 1895 to provide good quality housing and surroundings for the Cadbury workers of the time. "How the Bournville Village was developed and the Quaker-inspired proto-welfare state provided, was something I was keen to learn more about," Ben told us.
Alas, it was not to be. Ben found a model of the village on display with a set of binoculars similar to those found on seaside promenades. Excited, he peered into the device, hopeful perhaps of some chocolatey Augmented Reality.
And what did he see? Windows XP. In a perpetual state of logging off.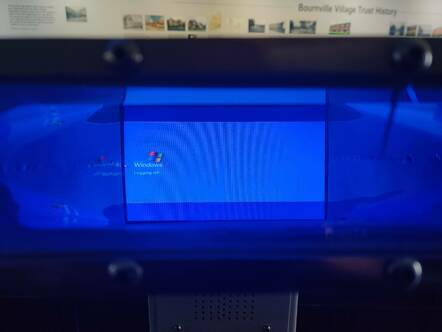 We're pretty sure the benefactors of Bournville Village did not consider Microsoft's operating system in their planning for improvements in living conditions. Indeed, the presence of Windows XP, now a good few years out of support, is seldom associated with an uptick in the quality of life. Unless one is a criminal seeking to unleash computer havoc.
As for why Windows XP is stuck logging off – who knows? Perhaps the hard disk needs a jolly good defragging? Perhaps some application is hanging on by its fingernails and won't let go? Whatever the cause, we'd have to suggest that maybe it is time to move on. After all, "the world's biggest Cadbury Shop" awaits.
And Ben's response to the discovery of borked XP among the confectionary? "I took this as a sign of some sort and left." ®