This article is more than 1 year old
A crypto-trading hamster is outperforming the S&P 500, Nasdaq, Bitcoin
As much as I wanted to be Gordon Gekko, I'll always be Mr Goxx
A cryptocurrency-trading hamster is sending shockwaves through the financial world by generating returns that outperform the S&P 500 index, the Nasdaq 100, and Bitcoin.
Goxx Capital, fronted by Mr Goxx, a small brown hamster said by his colleague to be "nearly one year old", has been trading since June this year using a specially constructed "office" enclosure. It is claimed that he has been involved in hundreds of trades worth literally tens of Euros.
His trading office, known as the Goxx Box, includes a number of special tools used to action his keen financial decisions. The largest of these is known as the "Intention Wheel", a hamster exercise wheel demarcated to determine which of around 30 different assets he will pick to trade. Then there are two "Decision Tunnels", one marked "Buy" and one marked "Sell", which determine which trade he will make with the chosen currency.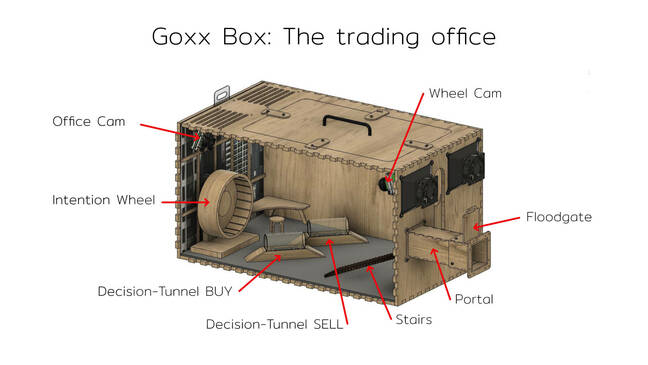 The Goxx Box
By running on the wheel and then running through one of his Decision Tunnels (or sometimes both), Mr Goxx is able to make trades via an automated system operating through an Arduino Nano microcontroller. The Nano also overlays graphics and updates on the live video feed of the trading sessions Mr Goxx streams on Twitch.
A "Buy" decision will purchase €20 worth of the chosen asset, while a "Sell" decision will liquidate all of his hodlings in that currency. As of the close of his trading session on 27 September, Mr Goxx's balance stood at +19.41 per cent, although before the Bitcoin collapse in early September Mr Goxx's hodlings were as high as +50 per cent.
Mr. Goxx has concluded his office hours for tonight with 1 order(s) placed.

Career Performance: +63.27 EUR (+19.41 %)

DISCLAIMER
This content is for entertainment purposes only. Investments shown here are not financial advice.

— mrgoxx (@mrgoxx) September 27, 2021
To supplement these tools, Mr Goxx ordered his human business partner to install a custom trading desk in the corner of the office in July, although he became so infuriated by a typo on one of the screens that he smashed it on the floor, as you can see in the video above.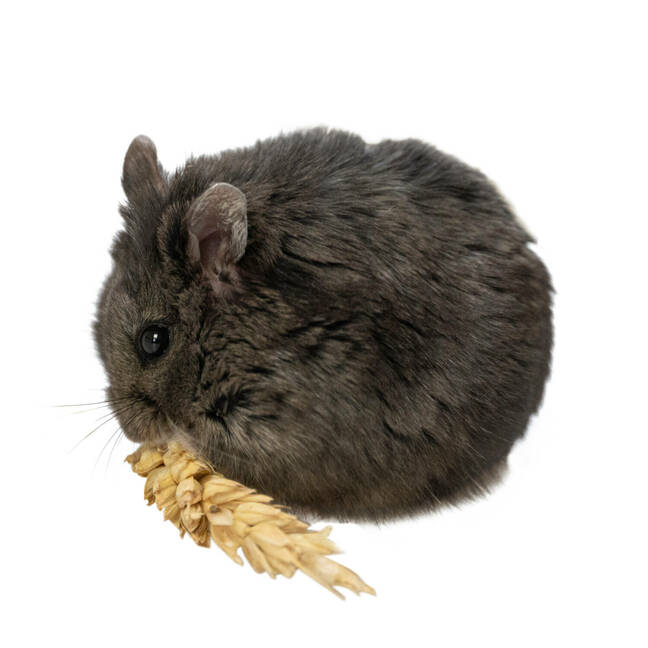 Mr Goxx himself
His human colleague, who also runs the Mr Goxx Twitter account detailing his daily trades, nevertheless defended Mr Goxx and stated unequivocally that he is a model professional who has never tried to eat any of his office furniture.
"Most of the time he shows excellent manners when dwelling in his office," he said. "There are no traces of his teeth anywhere, but if he did decide to eat some of his furniture this would be no problem.
"Everything reachable is built safe to eat and critical parts are covered up properly."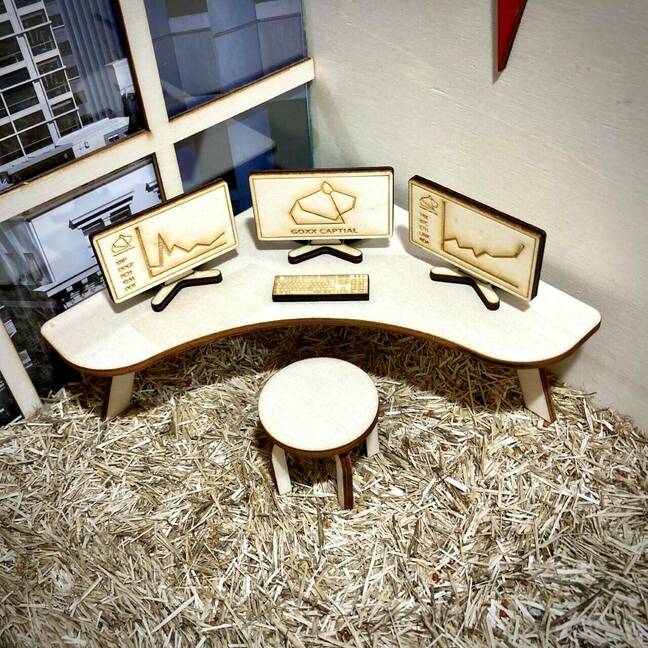 The trading desk
The fact that he has not eaten his office furnishings or trading tools is probably prudent since his business partner said in an interview with Protos Media that even before Bitcoin tumbled and caused most of the other cryptocurrencies to slide with it, Mr Goxx's profits were not yet enough to cover the considerable costs of constructing his office.
We asked what the future might hold for the high-flying rodent, but it seems he is not planning on following fellow investors Warren Buffett and George Soros into philanthropism once he has hung up his wheel.
"No, Mr Goxx is a ruthless business hamster," his handler told The Reg. "His only goal is becoming a crypto whale one day. Besides having John Oliver say: 'There is a fucking crypto trading hamster'."
But the dream of retiring as a crypto whale is still a long way off. "Since Mr Goxx is an honorable business rodent, he must calculate with about 35 per cent tax being subtracted on all his returns, so there is still some work left before he can really talk about making money," his business partner told Protos Media.
At least he has nothing to fear from the dreaded regulators. When asked if he had been in any trouble, his business partner seemed very relaxed: "Not yet. After all, we know there is nothing to this whole thing that would violate any laws."
We hope he can continue to resist the temptation to become a wheeler-dealer. ®