This article is more than 1 year old
US drug watchdog green-lights first prostate-cancer-predicting AI software
Computer vision tool mildly helps doctors identify potentially cancerous cells
The US Food and Drug Administration this month authorized the first AI-powered tool designed to help healthcare physicians diagnose prostate cancer.
Paige, a startup spun out of the Memorial Sloan Kettering Cancer Center (MSKCC), a research institution in New York City, was granted approval to officially tout its computer-vision software known as Paige Prostate. This neural network scans images of cells and predicts whether or not they are cancerous for doctors to consider.
"Pathologists examine biopsies of tissue suspected for diseases, such as prostate cancer, every day. Identifying areas of concern on the biopsy image can help pathologists make a diagnosis that informs the appropriate treatment," said Tim Stenzel, director of the Office of In Vitro Diagnostics and Radiological Health in the FDA's Center for Devices and Radiological Health.
The authorization of this AI-based software can help increase the number of identified prostate biopsy samples with cancerous tissue, which can ultimately save lives
"The authorization of this AI-based software can help increase the number of identified prostate biopsy samples with cancerous tissue, which can ultimately save lives."
A letter [PDF] from the FDA addressed to Paige before its neural net was officially authorized acknowledged that the tool stores and manages images of slides of bodily tissues. It helps pathologists study these biopsy samples by using computer vision techniques to highlight tissue that looks abnormal and might be cancerous.
The software also stores the data in a format that allows experts to quickly find scans for particular patients, and gives them the ability to zoom into parts of an image and add annotations for their fellow healthcare professionals. We're told it was trained using more than 30,000 whole-slide images.
"Paige Prostate has been tested clinically on slides from more than 150 institutions and in multiple peer-reviewed studies in international scientific journals, which validate its ability to help pathologists make more accurate diagnoses," a spokesperson told us.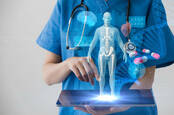 Want to let an AI-powered doctor loose on patients? Try slapping a food-label-like sticker on it, says Uncle Sam
READ MORE
Diagnosis of cancer ultimately is left up to the medics. Paige Prostate only helps them better visualize potentially cancerous cells. Paige was also only given the green light by the regulator to provide software to study prostate cancer, where it led to improved detection on individual slide images by 7.3 per cent on average.
"FDA approval allows pathology laboratories to introduce this diagnostic tool into their clinical workflow to help make pathologists more accurate, more reproducible, and more efficient, which will allow them to focus their attention on the most critical aspects of establishing the diagnosis," said David Klimstra, Paige's co-founder and chief medical officer.
The upstart is hoping to commercialize a deep-learning algorithm described by MSKCC boffins in a peer-reviewed study in Nature Medicine in 2019; more details on the design of the neural network can be found here.
Paige also offers a similar tool for studying breast cancer tissues that is available right now to beta testers and hasn't been officially approved by the FDA.
A spokesperson for the biz told us: "The combination of AI with traditional prostate cancer screenings and surveillance methods can help to find the cancer earlier, generally making it easier for oncologists to treat. Pathologists are inundated with large amounts of biopsies to screen, and with Paige Prostate, their workflows have been proven to be more accurate in cancer detection."
We're told it'll be available as a cloud software service, and pricing will depend on the number of cases studied and number of users. ®