This article is more than 1 year old
Confusion at Gare de Rennes as Windows shuffles off for a Gauloise
Je suis un bork star
Bork!Bork!Bork! Bork is continuing its European vacation with a French train ride through Rennes, showcasing the best efforts of Windows to baffle passengers.
Our tipster, Paul Stopford, was whisked off to Brittany on business aboard one of French railway SNCF's finest. By all accounts his journey on the top deck carriage was first class, right up until Gare de Rennes, a station in the Brittany capital that is a major hub for Western France.
The station's signage was, however, running a distinctly economy-class operating system in the form of what looks remarkably like Windows XP.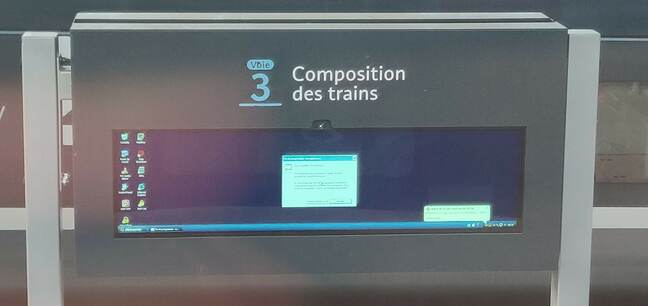 Click to enlarge
Rather than informing passengers of the location on the platform for each carriage of the lengthy train, Windows has thrown in the towel with the equivalent of a gallic shrug and a "Ce programme ne répond pas."
It might be borked, but somehow the localisation has softened the harsher edges of the very, very unsupported operating system. At least it wasn't an écran bleu de la mort.
"I hope this train's software is not composed of Windows XP," remarked Paul.
To be frank, since the TGV (and its derivatives) predate the ancient OS that Microsoft would rather we all forgot, the code behind the scenes is likely quite a bit older. And quite a bit more reliable.
Paul noted, however, that the software snafu could have a serious consequence: trains divide at Rennes, "so you may well be heading towards Brest instead of Quimper."
Either sounds impossibly glamorous to us. Brest lurks on the sticky-out bit in the west of the country and has wonderful chicken, while Quimper, just over an hour away by train, is notable for its cathedral. Both look like delightful places to visit.
As for which we'd choose... only Windows knows the answer and "Ce programme ne répond pas." ®