This article is more than 1 year old
Competition watchdog? We've heard of it. But emergency comms firm still on track to Airwave hello to £1.2bn
As replacement system faces delays, the incumbent reaps rewards
Airwave, the company behind the supposed-to-be-defunct legacy data and voice network for the UK emergency services, is on track for projected profits of £1.2bn for the technology's extension period.
The current Airwave system – which uses TETRA (Terrestrial Trunked Radio) radio tech – was due to be replaced by the 4G-based Emergency Services Network (ESN) in 2019. Although, as The Register presciently noted, that would happen when monkeys flew out of our butts, and indeed, as of 2019, no switchover. Airwave will be used until 2026.
As we've previously revealed, Motorola Solutions, which acquired legacy halfway-between-a-mobile-phone-and-a-walkie-talkie radio system Airwave in early 2015, also has a stake in the ESN, which will use an LTE push-to-talk solution. (Whether using a 4G-based replacement is really a good idea is another topic altogether.)
In results posted on Companies House for the financial year to 31 December 2020 [PDF], Airwave recorded an operating profit of £192m up from £198m a year earlier, putting it roughly in line for the profit projected by the Competition and Markets Authority (CMA) in July this year.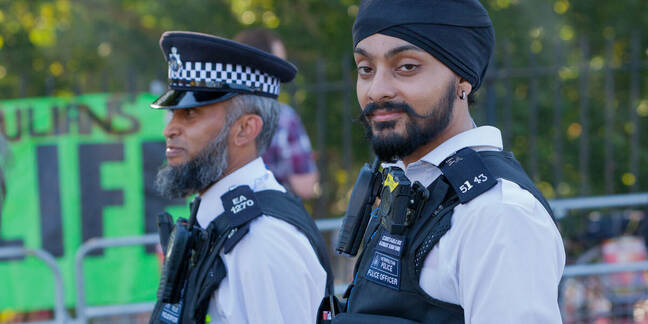 August 26th 2019: London Metropolitan police officers with Airwave handsets strapped to their chests (click to enlarge)
Profit after tax was £158m compared with £159m a year earlier, while turnover was up 2.1 per cent to £433m. Dividends of £120m were also revealed in the results.
Motorola won one of the key contracts for ESN in 2015 before finalising its purchase of Airwave Solutions. The acquisition was cleared by the CMA at the time because the government expected Airwave to be shut down by 2019. Several months back, the watchdog began considering a probe of the contract when it became clear Airwave, after several extensions, once again would not be going anywhere.
In its consultation over a proposed market investigation, the watchdog said: "Government officials and other stakeholders – in particular the [public spending watchdog] National Audit Office and [Parliamentary spending watchdog] the Public Accounts Committee – have expressed concerns regarding Motorola's position and incentives to deliver ESN, given the ongoing high profitability of the Airwave network."
The CMA said that Motorola could stand to make excess profits of about £1.2bn in the period from 2020 to 2026 – a cost that will ultimately fall to the British taxpayer.
In its results, Airwave said: "The directors have co-operated with the CMA in its consultation in relation to Proposed MIR. The directors are aware of the possibility that the consultation may lead to a market investigation reference and that… may lead to the CMA requiring corrective action as set out in the CMA's consultation document."
Commenting on Airwave's results, Philip Carse, chief analyst at Megabuyte, said: "Investigating Airwave now really is a case of shutting the stable door after the horse has bolted. The 2020 accounts show another year of prodigious cashflow aided by index-linked price rises. Including this year's dividend so far... we estimate that Motorola has now extracted just over £800m in dividends versus the £764m purchase price plus unspecified intercompany charges for 'strategic support' and such like that were referenced in last year's accounts."
ESN was designed to offer a new mobile voice and data network for police, ambulance, and fire services. The project began in 2011, contracts were awarded in 2015, and it was set to go live in 2017, but went through a complete revision in 2018 and has since had a "mindset reset", adding £1bn in costs and a further delay of two years, Home Office boss Matthew Rycroft told the Parliament's Public Accounts Committee last year.
Joanna Davinson, chief digital, data and technology officer at the Home Office, also told MPs on the PAC in September last year that "a year's delay across the whole of the legacy estate is in the ballpark of £550m."
Davinson has since been appointed executive director of the UK government's Central Digital and Data Office. ®