Elon Musk's SpaceX has just made history with the first ever commercial cargoship to be captured by the International Space Station's robotic arm.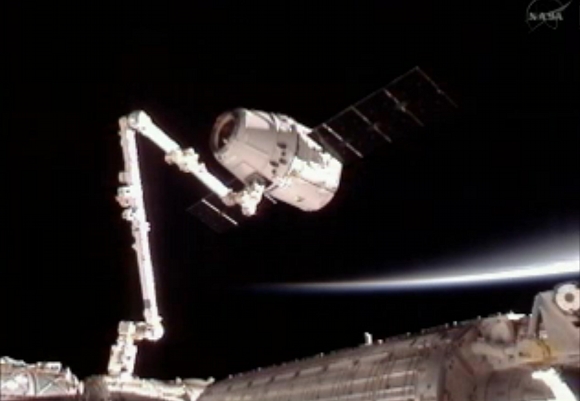 ISS captures the Dragon. Credit: NASA TV
Flying above northwestern Australia, flight engineer Don Pettit aboard the ISS reached out with the Canadarm and grabbed the Dragon at 9.56am EDT, 14.56 GMT.
Reg staff are not sure if astronauts are given cheesy lines to say at these big moments, but Pettit had a great one ready.
"Looks like we've got a dragon by the tail," he announced to Mission Control Centre in Houston.
"Looks like this sim went really well, we're ready to turn it around and do it for real," he joked.
Getting up close enough to the station and flying steadily alongside it are the hard parts of a docking like this, and Dragon's approach was not without its minor hiccups.
As the ship got closer to the station, its LIDAR sensor started seeing reflections from the Japanese Experiment Module which were throwing off its calculations. However, the SpaceX team on the ground were able to narrow the sensor's field-of-view so that it could ignore the JEM.
The next step in the process will be the opening of the hatch of the Dragon to let the ISS crew in for the cargo, which will happen sometime tomorrow. It was originally scheduled for 5.00 EDT (10.00 BST), but since the Dragon capture was somewhat delayed today, the hatch might not pop until later tomorrow. ®
Similar topics