This article is more than 1 year old
Want to check out Windows 11 but don't want to buy a new PC? Here's how to bypass the hardware requirements
Microsoft does not recommend this
Microsoft has softened its stance on hardware requirements for Windows 11 by documenting a way to bypass them – though it warns against doing so and states that it is unsupported and will not be entitled to updates.
The explanation was posted on the page about "ways to install Windows 11." It may be that Microsoft always intended this, but it also follows intense feedback from users frustrated or annoyed at not being able to upgrade to the latest Windows.
When Microsoft CEO Satya Nadella posted on LinkedIn about the "start of a new generation of Windows," comments included "My 2015 iPad is capable of running the latest iOS. Meanwhile, Microsoft has chosen to obsolete hardware that's only 2-3 years old. Ludicrous," and "This entails a significant effort in production which also comes at the worst time due to supply chain shortages."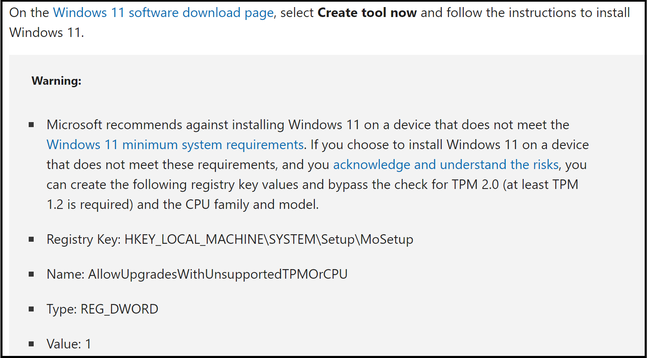 How to bypass Windows 11 system requirements
The bypass is easy: one registry setting called "AllowUpgradesWithUnsupportedTPMOrCPU". Once set, users can run the Media Creation Tool to create an ISO. It is then possible to mount the ISO with a right-click on the same PC and run setup from there to upgrade while keeping installed applications and documents.
There are limitations, one of which is that TPM 1.2 is still needed, revealing that Windows 11 has hard as well as soft requirements.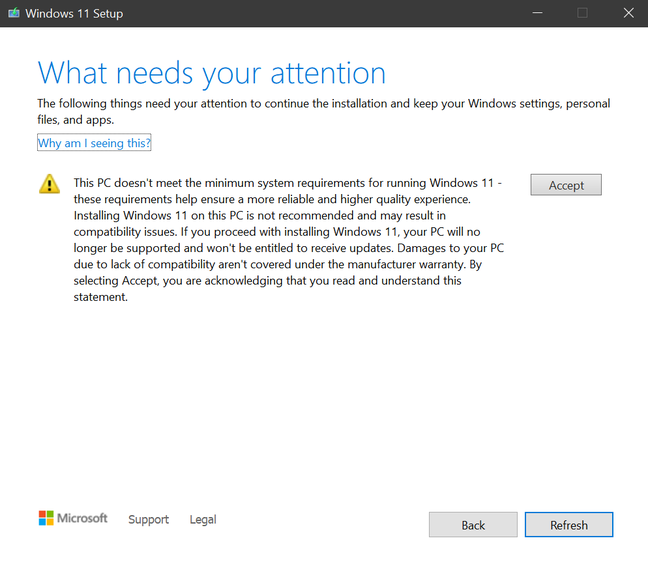 This warning appears when installing Windows 11 on unsupported hardware
Microsoft's warnings are severe. A disclaimer explains that the installation "may result in compatibility issues" and that "your PC will no longer be supported and won't be entitled to receive updates" – though it seems that Microsoft envisages certain scenarios where the bypass may be a good idea, since the heading states "not recommended unless instructed by support."
Exactly how this will play out is not clear, but some users have reported receiving updates on unsupported installations. Rather than intending to punish users with older hardware, it is more likely that Microsoft is covering itself against the possibility that some updates will not work. It would be a mistake to bypass the requirements on production systems that work well with Windows 10, or on hardware that is still under warranty.
That said, there are cases where this might make sense, such as in virtual machines or physical PCs used for test and development. There is also a category of PCs that nearly meet Microsoft's requirements, such as those with 7th generation Intel processors and TPM 2.0, where the chances of success are higher – though, as Microsoft emphasises, it is at the user's risk if it does not work. Uninstall should be possible for up to 10 days after upgrade, but not thereafter.
The reason this registry bypass key works is that Microsoft's system requirements for Windows 11 are more to do with ensuring a secure configuration and adequate performance than with enabling the operating system to run. Many of the security benefits in Windows 11 are also available in 10, but often not configured.
Yesterday Microsoft posted its Windows 11 security baseline, the recommended minimum configuration for a secure system, intended to be applied automatically on business networks via Group Policy.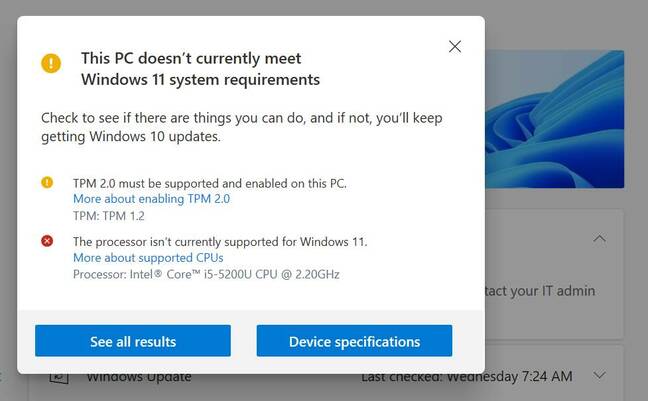 Health check says no: but with the bypass key, Windows 11 installed successfully
We tried the upgrade on an elderly HP laptop that owes us nothing. Core i5 5200 and TPM 1.2, 8GB RAM, SSD drive. The upgrade took several hours but worked and performance is not noticeably different than it was with Windows 10. No blotches in device manager (which would indicate missing drivers). Windows update works and duly downloaded a security update after the upgrade. Windows 11 Pro is activated. There is a risk that at some point Microsoft will update Windows 11 in a manner that requires hardware features that this laptop lacks; the same can happen though with Windows 10, and for a non-critical PC this seems a viable solution, for those keen to try Windows 11 without purchasing a new PC.®