This article is more than 1 year old
Happy birthday, Microsoft Money: Here's a cashpoint calamity for Windows and .NET
Weird all Jorvik
Bork!Bork!Bork! Bork – our column of reader-submitted unhappy displays – is celebrating 30 years of Microsoft Money this month with an example of why Windows, .NET and ATMs do not make good bedfellows.
Spotted by Register reader Sam Thompson in the delightful UK city of York (home of the Jorvik Viking Centre and the excellent National Railway Museum), the only thing being dispensed by this cash dispenser is the finest Microsoft-infused bork.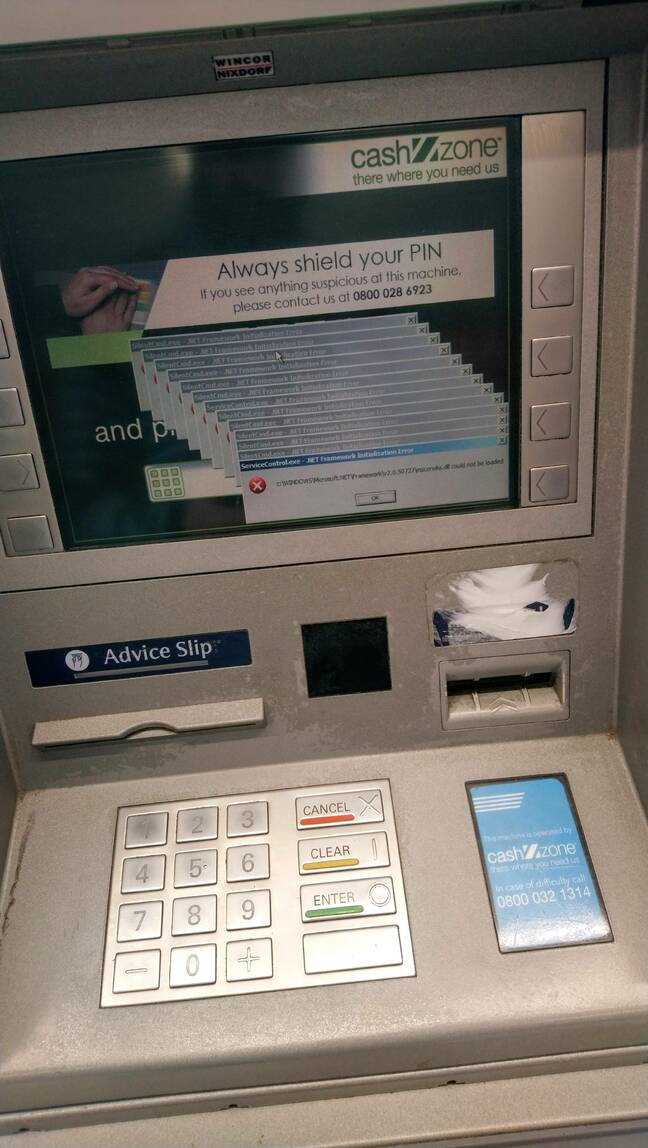 Click to enlarge
"When I first saw it a few weeks ago," Thompson told us, "there were only a few cascaded dialogs, now there are many – it seems they're now just appearing on top of themselves."
It would seem it was the result of either a panicked administrator or, more likely, a script running and failing over and over again.
Thompson was courageous enough to prod at the stricken machine and reported: "Surprisingly enough, it still works, if you can correctly guess which buttons to press – the interface is somewhat obscured."
Indeed it is. Microsoft's great hope for programming, .NET, is not having a good day. mscorwks.dll is, we believe, a relatively key bit of the common runtime library and an inability to load it has left .NET in distress. Then again, if version 2.0 of .NET is truly in use, then we suspect that the unfortunate administrator behind the scenes has all sorts of other problems on their hands. And those dialogs carry a distinct whiff of the long-obsolete Windows 2000 about them.
Thompson did his own bit of sleuthing and noted: "Interestingly, when I first saw it there were only SilentCmd errors."
"SilentCmd," he added, "is a tool that allows batch files to run without opening a terminal, e.g. from task scheduler."
The Microsoft products in use have clearly doubled down on matters, and Thompson observed: "More recently, it seems .NET has bitten the dust in a different and exciting way."
It is at once a reminder that something as hefty as Windows and .NET is a bit excessive for a humble cashpoint and, we hope, perhaps a celebration of that much missed finance package, Microsoft Money.
Launched in 1991 before a final retail release some 16 years later, followed by a culling in 2009, the product was a neat tool. While it may linger on nowadays in the form of an Excel template for US Microsoft 365 users, we can think of no better way of celebrating its anniversary than with a borked cashpoint in York. ®