This article is more than 1 year old
Mind your Ps and queues: Bork makes a visit to the A&E
Thanks Windows! Now this is the kind of hospital data-sharing we like to see...
Bork!Bork!Bork! There may be no better place for Windows to seek comfort in desperate times than the UK's National Health Service (NHS) – and sure enough a good old fashioned blue screen of death has popped up an A&E waiting room.
The borkage was spotted by a Register reader attending the Accident & Emergency department of a city hospital in the north of Britain.
The screen would normally have info on COVID-19 rules, and display the wait times for the various ticket numbers (in order) dished out by the nurses who do triage when you enter A&E. Instead, it appears that Windows has simply given up the ghost.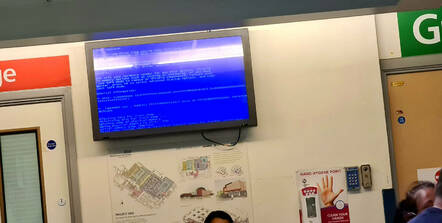 Click to enlarge
Frustratingly, what looks like a bit of an overscan issue (remember those?) means that some crucial details might have been omitted from the usual gibberish. However, the culprit looks like it is igdkmd.sys, a component associated with Intel graphics hardware.
A swift uninstall and reinstall of the graphics card driver should do the trick, although we imagine that the IT department in a critical unit have more important things on their minds than Windows doing a whoopsie on a wall.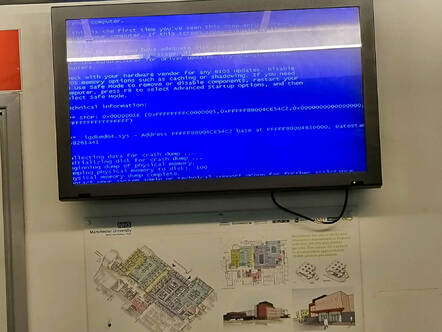 Click to enlarge
Whatever the reason, the screen is a reminder that the blue branding of the UK's health service is equally symbolic of the most unwell of Windows computers. ®