This article is more than 1 year old
Alibaba Cloud unveils home-spun 128-core Arm-compatible server processor
Also plans to open-source current XuanTie RISC-V cores and future designs
Updated Alibaba Cloud has revealed a home-grown processor for servers, based on the Arm architecture, that it has already deployed powering its cloud services.
Named Yitian 710, the processor was built on a 5nm process and boasts 128 Armv9-compatible CPU cores that hum along at up to 3.2GHz. Eight DDR5 channels and 96 PCIe 5.0 lanes are aboard, accounting for some of the 60 billion transistors on the die.
Yitian 710 was billed as a cloud-native processor at Alibaba's Apsara conference today, but the Chinese cloud leader offered few details beyond those above. From the core density and process node, it's safe to imagine that TSMC manufactured the parts. It's not clear whether Alibaba designed its own Armv9 CPU cores from scratch or used one of Arm's blueprints.
The Register understands Alibaba is very keen to have the Yitian 710 seen in the same light as Amazon Web Services' Graviton2 server microprocessors – that is, the product of a cloud operator innovating on behalf of customers, and in no way a paranoid or preemptive response to the prospect of US/China trade tensions making it harder to acquire other processors. Alibaba concluded that it needed a chip of this ilk to keep pace with rival clouds, just as it felt the need to build its own Hanguang 800 AI silicon in 2019.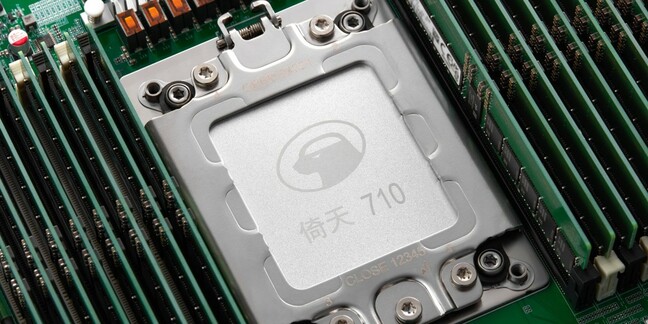 The Yitian 710. Click to enlarge
Meeting requirements for more efficient operations is another motivator for the roll-your-own approach, and Arm's power-sipping ways fit the bill. Alibaba doesn't think it can meet the performance-per-watt numbers it needs with off-the-rack silicon.
The Register understands that the chip has been used in production since July 2021, but only in limited numbers. Some are running in a new server design, dubbed Panjiu, developed to offer more efficiency that off-the-shelf kit Alibaba could find elsewhere. The company says the servers "are optimized for both general-purpose and specialized AI computing, as well as high-performance storage." Again, the hardware is aimed at cloud-native workloads.
Alibaba is yet to reveal instance types based the Panjiu/Yitian 710 combo, or which of its myriad services will run on the hardware. The Register understands those details will emerge in coming months. For now, Alibaba's line is that it will offer "next-generation computing services powered by the new chip-powered servers in the near future".
Yitian 710 was revealed at Alibaba Cloud's APSARA conference, which also featured news that the company will open-source at least four designs used in its RISC-V-based XuanTie core series, and do the same for "other upcoming cores". Accompanying software stacks will also be open-sourced, as part of an effort to grow an ecosystem around Alibaba silicon.
Alibaba Cloud already has a decent international footprint, and aspirations for further expansion beyond China. The Register will let you know when Yitian 710s become available – the prospect they'll allow Alibaba Cloud to differentiate itself on price, and perhaps novel instance types, just might make it a more compelling cloud provider. ®
Updated to add
Alibaba has open-sourced a bunch of its RISC-V CPU cores – the C910, the C906, the E902, and the E906 – along with relevant software development tools and other resources.