This article is more than 1 year old
Ever wondered where the 'cloud' was in Adobe Creative Cloud? Here it is in beta form
In-browser editing previewed for Photoshop and Illustrator
Adobe has introduced a beta of Creative Cloud Web at its virtual Max event, which kicked off today.
When Creative Cloud was introduced in 2011, it was something of a misnomer. There was a cloud storage element, but the core applications like Photoshop, Illustrator, and Premier Pro remained desktop applications for Windows and Mac.
It was more Creative Subscription than Creative Cloud since it marked the move to subscription pricing.
Since then more cloud features have been introduced, as well as increasingly capable mobile applications. Now the company has previewed Creative Cloud Web, which enables in-browser collaboration including review of documents without having to download apps or have a subscription.
Users can take control of basic editing tools in the browser "to make minor tweaks and quick edits," said Adobe.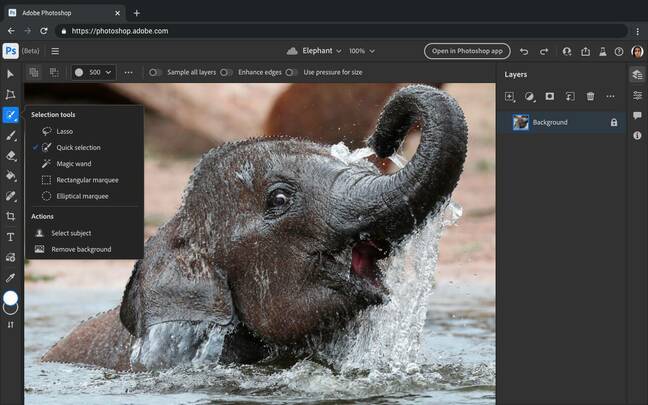 Editing a Photoshop document in the browser
There are several related pieces to the new direction. One is Creative Cloud Spaces, a project page for organising and sharing assets, links and documents in a central location, and Creative Cloud Canvas, which is a web application for collaboration on a project.
Canvas is just what it sounds like: a scrollable space onto which users drop shapes, text, stickers, images, and Creative Cloud documents. A document links back to the original so that users can open it in the desktop application and save it back.
A new comment feature for Photoshop and Illustrator lets collaborators add notes, complete with free-form drawing to encircle an area of a design, and the ability to drop a pin to reference a specific part of an image. These comment tools are exposed in the desktop applications as well, as a new panel in Photoshop and Illustrator.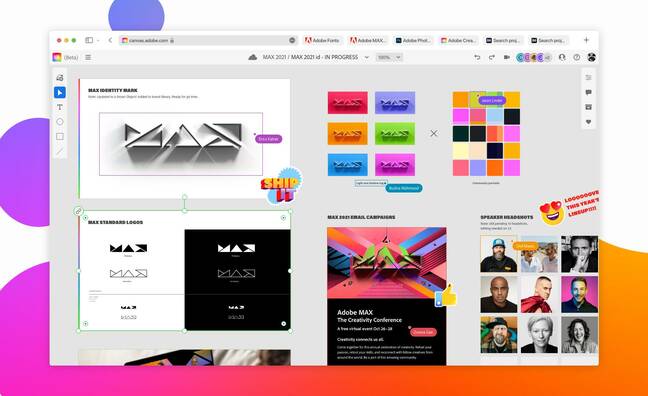 Creative Cloud Canvas, part of Adobe's new Web features
Separately, there is also the ability to make what Adobe describes as "shared review and light editing" in the browser, for Photoshop and Illustrator.
A preview demonstration of Photoshop showed us that although these features are limited compared to those in the desktop, they still make for an advanced editing tool with layer support and features such as the Spot Healing brush, for easy touch-up of image defects.
Adobe seems to have used the iPad versions of these applications as a model so designers familiar with these will find it an easy transition. Keyboard shortcuts match those in the desktop versions.
InDesign, the publishing application, is also getting online editing capabilities, in private beta. Designers can share stories to others even if they don't have InDesign, and editors working in the browser can amend the text. Graphic design elements stay locked, though, so this is not the equal of Photoshop on the web.
The path Adobe has chosen looks similar to that previously taken by Microsoft with Office 365. The desktop applications have full features, but in-browser editing covers a lot of the most common requirements.
Photoshop on the Web is in public beta and any subscriber can try it by clicking a button when viewing a Photoshop document in the browser. Illustrator on the Web is in private beta. Creative Cloud Spaces and Canvas are also in private beta.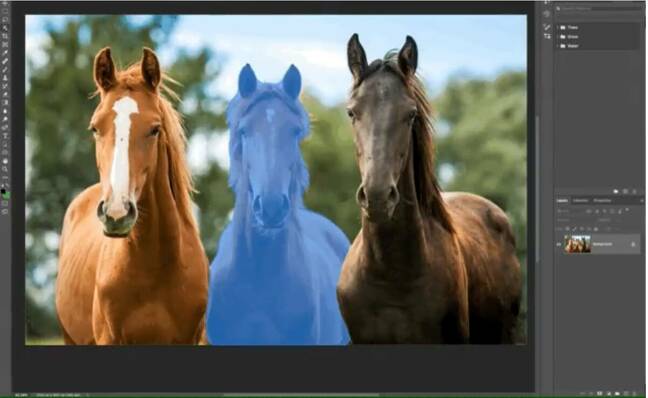 Select on hover, a new AI-powered tool in Photoshop desktop
Adobe has also introduced a host of other changes to its designer products. Photoshop gets hover masking – hover over an object in an image with this new tool and it auto-selects. This is an example of Adobe's AI used to save time; masking an image used to be a painstaking manual job.
New "neural filters", again using AI, include a landscape mixer and a colour transfer tool, to make the colour of an image match that of a reference image. The oil paint filter is faster thanks to GPU processing. Photoshop on the iPad now has Raw file support.
Conscious of the fact that "photoshopped" has come to mean a tampered image, Adobe is continuing with its Content Authenticity Initiative, which, if enabled, keeps the history of changes with an image so users can see what the original was like. The snag here is that those who intend to deceive will not enable the feature.
Adobe Illustrator gets improved 3D effects including a new ray-traced rendering engine. There is support for Adobe Substance augmented reality images, and font auto-activation that promises to activate fonts "seamlessly" when a document is opened, avoiding the pain of missing fonts.
InDesign has been ported to run natively on Apple silicon, and Adobe claims big speed improvements, such as 185 per cent faster opening of a graphics-heavy file and 78 per cent faster scrolling on a document of 100 pages.
Other applications such as the video editor Premiere Pro have also been updated. For the full list of what's new, check out the Adobe blog. ®