Advertorial Digital technology has been a lifeline to work, education and healthcare throughout the pandemic. And regardless of how long it takes for the world to return to a pre-pandemic state, we can be certain that advanced connectivity and computing technology will become ever more important.
In short, digital transformation is a must, and critical for any enterprise to build global competitiveness. It's no longer a question of whether to do it or not, but how to do it. However, we have learned, in conversations with our customers, that most businesses don't know where to start - or how or start - their transformation process. They recognise that it is not something they can implement effectively on their own and need an expert partner to guide them through.
For example, large enterprises may have significant financial resources - but they also typically manage very complex operating environments, traversing multiple sites, multiple data centres, multiple networks in multiple countries. In addition, their application environments may encompass huge numbers of mission-critical tasks, and maybe there are many non-compatible applications, perhaps inherited through acquisitions, doing the same things - but in different ways. Addressing these issues on your own is like turning around an oil tanker. It can be done, but it takes too much time and it's hard.
Huawei knows what it means to restructure a business and to build digital capabilities as the foundation. And we understand how to create the organisational strength necessary for digital transformation to bring about fundamental changes to enterprise.
In recent years, Huawei has built up enormous experience and expertise in implementing digital transformation processes - starting with ourselves. Huawei has made digital transformation a corporate strategy and has been implementing it for the last five years. Its experience means that Huawei understands how digital transformation should support the success of an enterprise's main business, and ensure customer satisfaction, sustainable business growth, and higher operational efficiency.
We call this "Diving into Digital". Our experience has helped us understand how digital transformation should support the success of an enterprise's main business, and ensure customer satisfaction, sustainable business growth, and higher operational efficiency.
For example, in Huawei's own digital transformation, we fundamentally streamlined its entire product manufacturing process from development to design and manufacture.
So, l would like to share with you some of the insights we have gained from implementing digital transformation programs for literally hundreds of customers. There are three universal key elements. The first is to reshape user experience, replacing function-oriented IT systems with human-centred and user-centred IT systems. The second is to reshape operational models and the third is to optimise operational models for data-driven intelligent decision making.
To succeed, digital transformation needs complete commitment from the leaders at the top of an organisation and it's not something that a business can achieve overnight. It's a gradual and iterative process, and at Huawei, we believe it is best accomplished by focusing on scenarios, models, and partners.
What do we mean by this?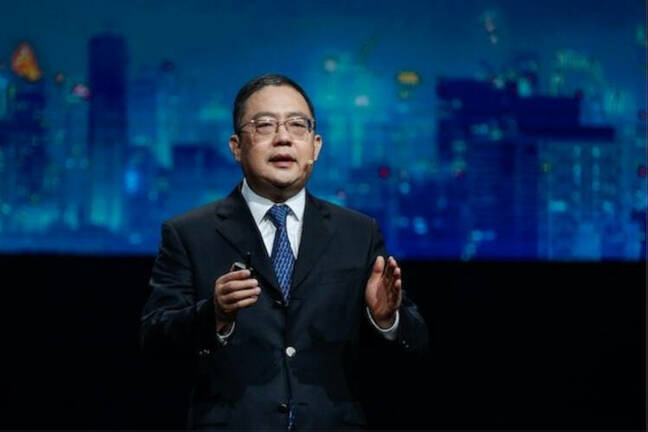 Peng Zhongyang: Huawei is here to help
Scenarios
Let's start with scenarios. Digital technologies must be embedded in enterprise scenarios and combined with business processes - applying digital technologies in core production systems, not just auxiliary systems, in order to create value for a business. Digital technologies should be used to empower frontline operations as well as business leadership, and be expanded to all scenarios, not just isolated domains like R&D, finance or manufacturing.
Huawei's experience with different scenarios enables it to address the key issues that businesses face when they seek to transform digitally, and the company has already released 11 scenario-based solutions - think of them as "playbooks" - covering five industries.
For example, Bank of Communications, one of China's largest banks, has worked with Huawei to digitise its business and build a solid data infrastructure to leverage the value of data and develop an enterprise-level data platform. The bank faced a number of challenges: for example, it lacked real-time applications and its data processing was slow. The bank has deployed FusionInsight, Huawei's suite of cloud services, and used its data lake warehouse integration and real time computing capabilities to reshape core production scenarios like marketing, risk control and operation. Working with Huawei, Bank of Communications has improved its data supply and speeded up digitalisation, and data is now mined to drive business innovation.
Models
Huawei has developed a one-stop model of consulting, integration, and operational support to help our customers succeed in digital transformation. Huawei's consulting service helps to define value for customers. Then our integration services can be accessed to help create this value and ongoing operational support can help customers to realise this value in a consistent manner.
Let's take a look at how models have worked out in practice at PipeChina, the company that operates China's oil and gas pipeline infrastructure.
Traditionally, at PipeChina, IT systems were developed in isolation, which had led to information silos, complex integration, slow response to demand and a poor user experience. With Huawei's help, PipeChina built scenario-based digital solutions and improved enterprise architecture and management systems. Huawei helped PipeChina to set up digitalisation departments, and then helped it build an open service and transaction platform that can be accessed by suppliers, distributors, end users, banks and so on. Over 90,000km of pipeline, 1,000 stations, and 30,000 PipeChina employees are now digitally connected.
Data across the country is now pulled into and managed on one network, data silos have been eliminated and remote management is now possible. PipeChina has turned the trillions of physical assets on the pipelines into data assets, so that they can be used to create value, the company's aim now is to become an industry benchmark for diving into digital.
Partners
We have also made substantial investments in strengthening our partner network, as digital transformation also needs strong ecosystem support, with joint efforts between supply side, technology and industry to bridge the divide between industry and technologies.
For example, Huawei is helping to drive 5G-based smart technologies for Swiss agriculture and increasing the competitiveness of a very traditional industry, in tandem with our partners, fenaco, Agroscope, the OST (Eastern Switzerland University of Applied Sciences) and Sunrise UPC.
In the first instance, the partners have combined their expertise in a project that controls weeds using drones and agricultural robots. Weed control is carried out very precisely, and pesticide use can be reduced by up to 90 per cent.
Thanks to the low latency, transmission of immense data volumes, and massive simultaneous connections, 5G is ticking the boxes required for the Internet of Things to make its mark in the field of agriculture. In combination with other technologies, applications are becoming possible that reduce the environmental impact of pesticides, conserve natural resources, improve animal welfare, and generate higher yields for farmers – all the while helping them save costs.
Continuous improvement
If nothing else the pandemic has shown us how important digital technologies are to our daily lives and that digital transformation is a necessary step for businesses to stay resilient, competitive and effective. Diving into Digital enhances the customer experience and work efficacy, drives the continuous growth of a company, and helps to restructure the competitiveness portfolio.
There isn't one single transformation strategy that works for every company, and businesses must tailor their digital needs to market conditions. Huawei integrates ICT with real-life scenarios and processes, and has developed a new model of consulting, integration, and operational support. We aim to fully understand our customers' needs and vision and then turn them into reality.
Huawei is here to help.
This article is sponsored by Huawei.
About the author
Peng Zhongyang joined Huawei in 1997 and has served as Technical Service Engineer of the South China Area, Transmission Project Manager and Development Engineer of the Russia Representative Office, General Manager of the Yemen Representative Office, Assistant to President of the Middle East and Northern Africa Region, President of the Northern Africa Region, President of the China Region, and President of the Corporate Leadership Mgmt Dept. Currently, Mr. Peng serves as Huawei's Board Member and President of the Enterprise BG