This article is more than 1 year old
What a Mesh: Microsoft puts Office in the Loop, adds mixed reality tech to Teams
Vid chat app gets 3D virtual meetings while users hope for more reliable connections
Ignite Microsoft's virtual Ignite event, aimed at IT admins, kicked off today with a focus on Office and Teams, among other cloudy news. Office is getting a new application called Loop, while Teams users get mixed reality meetings based on Microsoft Mesh.
Loop is an Office application based on what used to be called Fluid Components technology which has been under development for some time, being first previewed in May 2019. These components use the WebSocket API, designed for real-time communications. It addresses a flaw in Microsoft Office, that it is weaker than rival Google Workspace when it comes to online collaboration.
A Loop workspace – note that it is web-only
There are three elements in Loop. The components come first, as the building blocks, and currently include paragraphs, tables, task lists, voting tables and status trackers. These components are automatically kept in sync wherever they are surfaced. Loop pages are where users assemble components into what might be thought of as a document.
Loop workspaces are project sites which, judging from the previews we have seen, can include traditional Office documents as well as Loop components. According to Microsoft, Loop components in Teams, Outlook and OneNote will start rolling out this month, though the company would not commit to specific availability dates.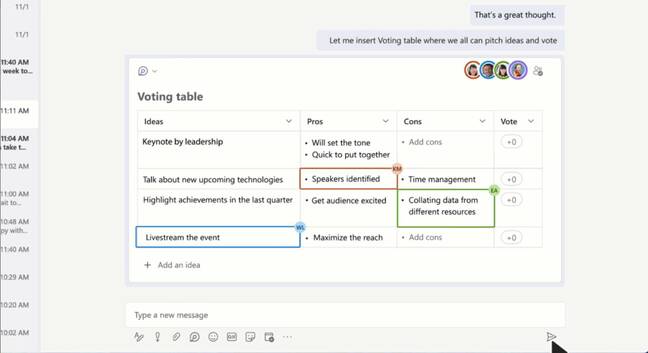 A Loop voting table being prepared collaboratively
There is plenty of potential with Loop/Fluid but Microsoft has taken its time getting it into a production-ready state. The docs for Fluid Framework, the developer API, say that "the core technology powering Fluid Framework is mature and stable. However, the layers built on top of that foundation are still a work in progress."
The company will be hoping the re-brand as Loop, along with the availability of something described as an application, will bring the technology to life.
There are some snags though, one of which is that Loop is a web technology, leaving users of desktop Office behind. Second, we suspect there will be confusion between Loop workspaces and things like Teams SharePoint sites, which seem superficially to have a similar purpose. The WebSockets-based Loop should provide a different user experience, with much better performance.
If it takes off, Loop might be the thing that persuades Office users to move outside the world of Word, Excel and Outlook; but in the past Microsoft has found new applications difficult to establish.
Teams is an exception to that rule, and its usage continues to grow despite persistent grumblings about underlying complexity, lack of key features, and troublesome connections. The top ask for Teams is full multi-tenancy support, so that users could be logged into more than one Teams account.
No, we are not getting this yet; Microsoft's latest on the subject is that "given the complexity of this work, we are targeting the second half of calendar year 2022 to be able to support this."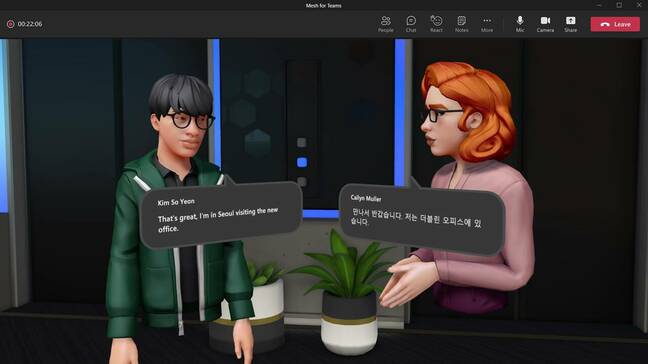 Mesh for Teams: users floating in space?
What we are getting is 3D mixed reality in Teams. Microsoft's Mesh for Teams integrates the existing Microsoft Mesh, mixed reality meetings which are in preview for HoloLens 2 or "any Mesh-enabled app" on smartphone tablet or PC. Mesh for Teams will begin rolling out in the first half of 2022, the company said.
The technology will enable users to join a Teams meeting as a "customized avatar of themselves," Microsoft said, in place of the usual static picture or live video.
It will also be possible to build virtual spaces for Mesh for Teams, which the company is calling metaverses, or "a persistent digital world inhabited by digital twins of people, places and things."
It is perhaps unfortunate that Facebook has already hijacked the term "metaverse" for its own variant of what seems a similar concept.
Microsoft-watchers will recognise Mesh for Teams as based on the work of Technical Fellow Alex Kipman, who was also behind HoloLens and the discontinued Xbox Kinect. The technology is impressive but the company has yet to make Kipman's mixed reality vision mainstream, with Mesh for Teams being its latest attempt. A Mesh press image puzzled us with avatars without legs and a strange pipe-like object under the virtual table, but it is preview after all.
Actual Teams users would prefer more mundane improvements. "Spent the last 25 minutes trying to get microsoft teams to let me into a microsoft ignite preview. so that was fun. still can't get in," complained Redmonk analyst James Governor on Twitter.
Philip Carter, formerly a .NET program manager but who left Microsoft in June, added that "you should see how hard it was on the inside to try and change tenants to get in the Q&A sessions so you could actually help people. Absolutely chaotic 12-step process that lots of folks just gave up on," though he believes it is easier now.
Despite everything, Teams is popular because it integrates with Microsoft 365 and brings together virtual meetings and video calls, instant messaging and document collaboration. The technology is improving and organizations find benefit in being able to manage security and identity through Active Directory and Azure AD; though it is also this deep integration that makes it challenging for Microsoft to give it the multi-tenant flexibility users demand.
Mesh aside, Microsoft has introduced other Teams enhancements at Ignite. These will be rolled out at various times from the near future to mid-2022. Microsoft Teams Connect enables shared channels, giving the ability to create meetings with individuals and teams across multiple organizations. The Teams App Store is getting a revamp, and the platform extended to allow third party applications to be embedded in Teams "collaborative surfaces" such as meetings. It will also be possible to embed Teams chat into Dynamics 365 and applications built with Power Apps.
Virtual events based on Teams are also getting new features, including a virtual "green room" for organizers and presenters to chat, manage attendee settings, and share content. There will be enhanced controls for managing what attendees see, and a co-organizer role that can be assigned to up to 10 individuals.
An updated Q&A in Teams will have features including marking best answers, moderate questions, and pin posts. Isolated audio feeds will enable producers to create a mix using feeds from each individual, making Teams recordings potentially less cacophonic. There is also integration with the third-party Cvent platform.
Teams Chat is being enhanced with the ability to send messages to yourself, intended as a reminder feature, customize the number of messages on the screen, and to delay the delivery of messages.
Admins will be getting an improved Admin Center with a device analytics dashboard, including metrics and troubleshooting tips, and a workspace view covering all the meeting room devices in a particular building or location. There is also a boss prioritisation feature, enabling an admin to "closely monitor the collaboration experiences" of specified users, according to Microsoft.
There is more Office news than just Loop, as well. Notable is PowerPoint Recording Studio, which builds on the existing ability to record a PowerPoint presentation including an embedded video of the speaker. The new feature allows a custom background, slide annotation, and the ability to re-record individual slides. Recording Studio is currently Windows-only, with Mac users still on the old Record Slide Slow feature. "We are looking to align these two experiences in future," the company told us.
But wait, there's more: JavaScript and Excel
Excel is getting an updated JavaScript API including custom data types and the ability to create functions using them. AI in Office will be enhanced with a new set of predictive suggestions called Context IQ. Microsoft gives as examples: suggesting which file to insert in an email; recommending suitable times for a meeting in an Outlook email; suggesting which people to tag in a comment or email; pulling in Dynamics 365 data as a loop component; and other as-you-write suggestions, such as adding a frequent flyer number to a flight booking. These features will be surfaced in the existing Microsoft Editor feature. ®