This article is more than 1 year old
Now that's a splash down: Astronauts spend 8-hour trip to Earth in diapers after SpaceX capsule toilet breaks
Puts a whole new spin on 'To boldly go where no one has gone before'
Four astronauts departed the International Space Station on Monday, and made their way safely back to Earth wearing diapers after their SpaceX capsule's toilet broke down.
NASA's Shane Kimbrough and Megan McArthur, Japan Aerospace Exploration Agency's Akihiko Hoshide, and ESA's Thomas Pesquet departed for terra firma a little after 1400 ET (1900 UTC). They splashed down off the coast of Florida at around 2230 ET Monday (0330 UTC Tuesday) and were recovered by ship.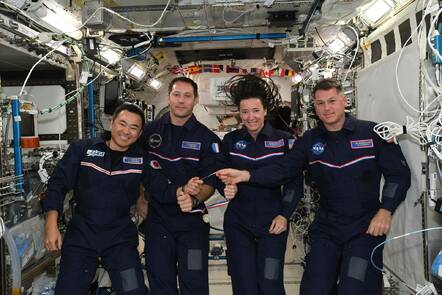 From left, Akihiko Hoshide, Thomas Pesquet, Megan McArthur, and Shane Kimbrough ... Image Credit: ESA/NASA–T. Pesquet
The 'nauts spent more than six months aboard the station taking part in hundreds of science and technology experiments, including studying live worms and growing chili peppers for tacos in zero-g conditions. They also upgraded the orbiting lab's power grid and witnessed the first film to be shot in space.
Once inside their SpaceX capsule, the four explorers, dubbed SpaceX Crew-2, detached from the platform and performed the first-ever 360-degree flight around the ISS to photograph the floating laboratory before heading toward Earth. This is the same capsule that brought them to the ISS in April.
🌞 Sunrise in space 🌞@SpaceX's Crew Dragon Endeavour passes over the east coast of Japan as it enters the final leg of its loop around the @Space_Station: pic.twitter.com/Xb8s0Je1Mr

— NASA (@NASA) November 8, 2021
Their return journey, however, wasn't as comfortable as the outbound trip. Unfortunately, the toilet in the capsule was out of order as its urine storage tank wouldn't hold any emissions after a tube disconnected.
To prevent any leakage, the astronauts were advised to not use the equipment and, instead, wore good ol' diapers. A similar problem hit SpaceX's Inspiration-4 flight, we note.
"Of course that's sub-optimal, but we're prepared to manage," McArthur said in a media briefing last week. "Space flight is full of lots of little challenges, this is just one more that we'll encounter and take care of in our mission."
Crew-2's exit will make way for Crew-3. NASA's Raja Chari, Tom Marshburn, and Kayla Barron, as well as ESA's Matthias Maurer, are expected to fly to the ISS no earlier than November 10 at 2103 ET (0203 UTC the next day). The flight was once scheduled for October 31 but has suffered multiple delays due to bad weather and a non-coronavirus medical issue.
The return of Japan Aerospace Exploration Agency's Akihiko Hoshide made for a very busy day in Space for Japan, which successfully launched an Epsilon-V rocket after two previous attempts were scrubbed. The mission was dedicated to launching nine innovative small satellites, among them a Sony craft designed to test the SPRESENSE IoT board that Japan plans to use in the transforming moonbot the nation plans to send to Luna in 2022. ®