This article is more than 1 year old
Truck, sweet truck: Volvo's Chinese owner unveils methanol/electric truck with bathroom and kitchen
'Homtruck' also packs a tea maker, washing machine, the feel of a bamboo forest – and a roadmap to autonomous ops
Chinese auto maker Geely, which owns Volvo, Lotus and other car brands, has unveiled a hybrid electric truck it says will go on sale in 2024 offering all the comforts of home.
Launched yesterday by Geely's commercial vehicle brand, Farizon Auto, the "Homtruck" is named to reflect that it's a semi-truck to handle any hauling loads up and down the world's highways, but kitted out to offer some of the comforts of home.
"The design includes a bathroom complete with a shower and toilet, single bed, refrigerator, tea maker, kitchen, and even a small washing machine." The interior uses "soft-touch fabrics, sustainable plastics, and bamboo grain materials to create a healthy eco-friendly environment inspired by the peaceful bamboo forests of China".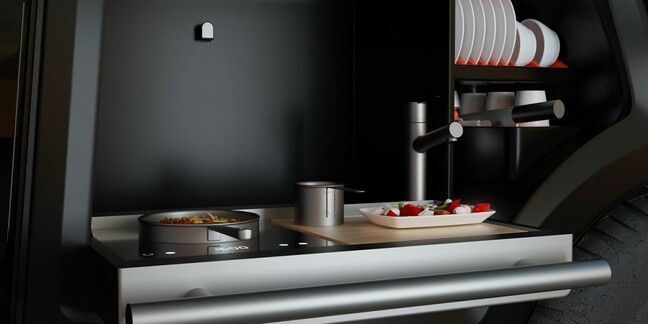 Homtruck's kitchen Click to enlarge
Under the hood things get really interesting, because Homtruck can run batteries or a methanol-hybrid powertrain. If operators opt for batteries, they'll be swappable at a network of service stations on Chinese highways (rather than giving drivers some time to brew a cup or run some laundry while they wait for a recharge).
Geely says the Homtruck will go on sale in 2024 but has a cautious … erm … roadmap for delivering self-driving capabilities in steps until full autonomy can be delivered in 2030. The Register is unsure if the kitchen, bathroom and so on will survive once the truck can drive itself.
The truck will be wired from day one. Farizon says "Homtruck is capable of connecting to the logistics network's big data platforms to help drivers obtain the most optimal orders in real time, analyse and track deliveries, and calculate operating costs along the routes.
"In addition, the energy management system can also manage the Homtruck's power or fuel supply to achieve the most optimal economic performance and is able to recommend optimal refuelling or recharging routes to the driver."
Or perhaps that should be "to the resident" – given the quantity of home comforts packed into Homtruck.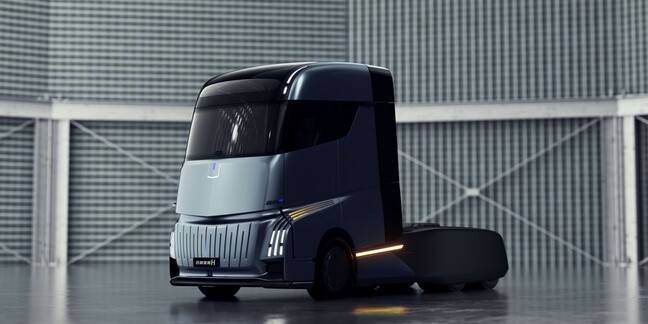 The Homtruck. Click to enlarge
Farizon hopes to sell the vehicle outside China, too, taking it into competition with Tesla, Mercedes, and others who have advanced electric truck plans. ®