This article is more than 1 year old
Another 100 space tourists buy a ride from Virgin Galactic: $25k of that ticket deposit is 'non-refundable'
Firm still manages to lose $48m while Italian Air Force waits to board Branson's space jalopy
Rocket plane company Virgin Galactic is boasting that it has sold an additional 100 seats since sales kicked off again in September.
While the new price per trip is a beefy $450,000, the deposit is $150,000 – of which $25,000 is non-refundable. "Like hot cakes" is not a metaphor that springs to mind.
The extra sales in calendar Q3 have brought the total number of what the company calls "future astronauts" to 700. Virgin Galactic is aiming for 1,000 ticket sales before it kicks off commercial service.
The news came as the space arm of Richard Branson's holdings reported its calendar Q3, saying losses had narrowed. Nonetheless, it continues to provide backing for the saying: "How do you make a small fortune in the space business? Start with a large one."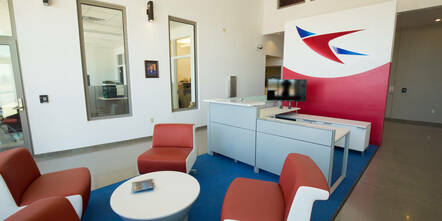 A waiting lounge area in Spaceport America – no, you don't get armrests as well for your $450,000. Greedy...
The company reported a loss of $48m for the quarter ending 30 September 2021, compared to a $92m net loss for the same time in 2020. Revenues stood at $2.6m for the three months.
As for when VG plans to bus the tourists to space, the company confirmed it remained a year out from commencing that commercial service, which is plenty of time to keep burning through the cash. In July 2021, it generated $500m by selling approximately 13.7 million shares of common stock, with proceeds headed for "general corporate purposes" and building more spaceships.
Following the Unity 22 flight (and subsequent furore with the FAA and issues with a supplier component) Virgin Galactic started a "planned enhancement program" for both the carrier aircraft VMS Eve and the rocket plane VSS Unity, with the Italian Air Force mission (Unity 23) taking place afterwards, in 2022.
Once that mission is done (as well as "vehicle testing") the long-delayed first commercial flight can finally take place.
And the FAA? While it remains vaguely surprising that there was no procedure to communicate the deviation of Unity 22's flight path to air traffic control in real-time, CEO Michael Colglazier told analysts that next time Virgin Galactic would keep the FAA informed and had expanded the protected air space "for future flights."
As for building a fleet, the next SpaceShipTwo, VSS Imagine, is scheduled to take its first glide flight towards the end of 2022 before starting revenue-generating flights in 2023. Virgin Galactic also has plans to up the flights between major inspections for VMS Eve from 10 flights to 100 flights and increase its flight cadence to 400 flights per year per spaceport. If it manages this, that would be quite a leap from the four powered flights achieved by VSS Unity since 2018. ®