Paid Feature Last month, Dell Technologies tucked a clutch of new or refreshed servers into the PowerEdge server portfolio. There are five servers in the launch, with four positioned at the entry level of the PowerEdge range.
Each model is designed for essential workloads and can be used in different locations. Dell already offers the most extensive server line-up in the market, with more than 100 different PowerEdge compute server models. So why the need to introduce even more SKUs into the world?
The answer is very simple - and represents Dell's response to a complex problem, namely that these days general purpose computing is general purpose in name only. Rapidly increasing demands for insights from analytics and modelling derived from machine learning requires compute that is fine-tuned for these workloads.
At the same time, companies are investing heavily in their edge computing capabilities, including an overhaul of their ROBO (remote-office / branch-office) infrastructure. A server that is a good fit for the remote location may not cut the mustard for a resource-intensive analytics app, but it may also need to be toughened to withstand its environment.
Dell argues that implementing the right infrastructure that is capable of meeting every modern compute scenario typically entails partnering with a provider capable of helping them modernize their compute resources to support current and future business goals, and to help them adapt as required.
For example, digital transformation is an IT imperative, says Dell, citing a McKinsey Global Survey of executives, which found that the pandemic had "accelerated the digitization of their customer and supply-chain interactions and of their internal operations by three to four years. And the share of digital or digitally enabled products in their portfolios has accelerated by a shocking seven years."
"The only thing you can count on," the company adds, "is that you need to be ready for anything. Technologies, customer expectations, business demands and market realities can all change in an instant." Hence the need to have IT infrastructure in place that can meet a wide range of business needs.
Adaptive Compute
Dell has coined the term "Adaptive Compute" for this highly-segmented server strategy. Let's take a look at how this pans out in practice for the latest servers: the PowerEdge T550 Tower Server; PowerEdge R250 Rack Server and PowerEdge R350 Rack Server; and the PowerEdge T150 Tower Server and PowerEdge T350 Tower Server.
With these servers, Dell has baked in the appropriate combination of capabilities to address an organization's specific compute requirements, from single-socket systems that are affordable for smaller businesses to a mainstream two-socket server for enterprise workloads.
The entry-level rack and tower servers, the T150, T350, R250 and R350, all use Intel Xeon E-2300 processors and feature office-friendly acoustics and thermals. Dell says their compact size and reduced latency makes them equally suitable in a data center, or for edge and ROBO locations. Typical use cases for the latter include retail and point of sale transactions, restaurants and hospitality for visitor management, and manufacturing logistics environments.
The new two-socket T550 PowerEdge server is designed for high performance and comes with up to two processors and 36 cores per processor, up to 3,200 MT/s and 16 DDR4 DIMM slots. Training an ML model or analyzing vast quantities of data calls for substantial processing power.
One way of delivering this is by equipping systems with one or more GPUs to accelerate the processing. To this end, the T550 can be configured with Nvidia GPUs with NVLink, a high-speed interconnect that can be used to cluster together multiple Nvidia GPUs inside a server for greater performance. NVLink provides for high bandwidth between the GPUs, whereas using the PCIe bus would create a bottleneck.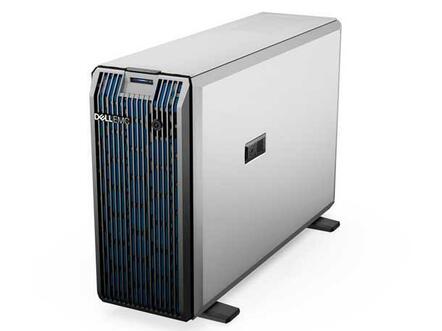 T550 PowerEdge server
In addition, the T550 is powered by 3rd Gen Intel® Xeon® Scalable Processors that launched earlier this year. Improvements in the architecture enable a performance increase for common data center workloads by as much as 46 percent over the previous generation, according to Intel.
Dell's mission is to provide automation and management tools that help organizations orchestrate their infrastructure in the face of changing environments, helping them to scale and evolve.
Dell has created several management tools that enable customers to manage their PowerEdge systems remotely even for their entry-level servers, thus freeing IT staff to focus on more productive activities.
These include the iDRAC9 management controller which is embedded in every PowerEdge system and offers zero touch deployment and lifecycle management. Another piece of the solution is OpenManage Enterprise, Dell's infrastructure management console that allows IT staff to deploy, update and monitor PowerEdge servers, as well as make changes to the infrastructure.
Dell believes that with all these technologies and tools available as part of its latest PowerEdge portfolio, organizations will be able to shape their IT into "an innovation engine", infrastructure that has the right performance and capabilities to deliver insights from all their data and meet their business goals.
With PowerEdge systems and adaptive compute provided by Dell, organizations will be able to flex as circumstances demand, reconfiguring their infrastructure for new workloads and new challenges as they arise, while continuing to work with existing technologies to protect an organization's existing investments.
Sponsored by Dell Technologies.