This article is more than 1 year old
Phone jammers made my model plane smash into parked lorry, fumes hobbyist
Illegal irritant raises its head again after drone investigation
A radio-controlled aeroplane operator blamed the crash of his replica WWII model in a lorry park on 2.4GHz radio jammers.
The model aircraft hit the side of a parked lorry trailer after going out of control in April 2021 at a site near the Staffordshire town of Lichfield, in the middle of England.
"It was suspected by the pilot that 2.4 GHz jamming devices were being operated by some of the companies at the distribution centre to prevent staff from using mobile telephones," noted the Air Accidents Investigation Branch in a report about the model's demise.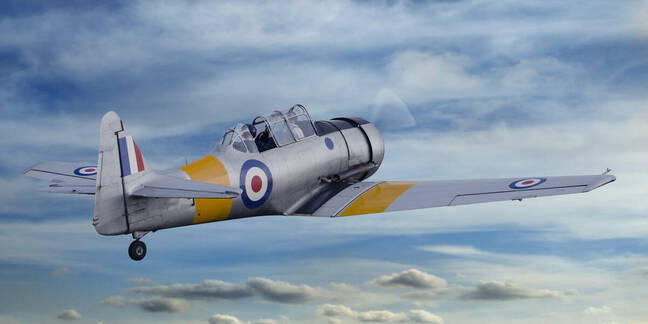 A full size version of the WWII-era T-6 Harvard (the operator's model plane was a scaled down version of this)
The scaled-down Harvard – a model of a WWII training aeroplane – smashed into the curtain trailer's side after its operator lost contact with the aircraft.
Instead of staying in the circuit at the model flying club's airfield, the 1.7 metre wooden aircraft "maintained a straight and level attitude in a north-easterly direction, at approximately half throttle" until meeting its end at the Fradley Distribution Centre.
Its petrol engine is said to have continued running after the crash. All crashes of "drones", including radio-controlled model aircraft, are reportable to aviation authorities after a government crackdown on small unmanned aviation a few years ago.
While the operator told investigators he thought 2.4GHz jammers were in use, which meant his model stopped responding to his radio control inputs and flew away from the airfield, the authority was told that "no such devices were in operation", adding that their use would be a criminal offence under the Wireless Telegraphy Act.
That said, phone jammers are relatively common on Britain's roads despite warnings from spectrum regulator Ofcom that the devices are mostly illegal. A quick look at your online tat bazaar of choice will reveal plenty of devices for sale, ranging between GSM signal jammers for all the common specifications (2G right through to 5G, or so their vendors claim) to GPS jammers.
Even the Hatton Garden jewellery thieves used a GPS jammer to prevent an alarm system from triggering a police response, a court was told during their 2019 trial.
A private trade association, the Association for Public Sector Excellence, even warned its members (PDF) in 2019: "Through the use of cheap and accessible jammers, it is relatively easy to 'knock out' the GPS signal leaving the vehicle and driver untraceable."
Perhaps the model Harvard's operator was right when he guessed that jammers were in use at the lorry park. Or perhaps he was just unlucky that day. ®