This article is more than 1 year old
Google wants US government to help develop chiplet design standards, so they're easier to make and buy
Submission to USA's call for chip supply chain warns on 'blunt interventions', making it far more colorful than most
Google has suggested the US government's National Institute of Standards and Technology develop standards for some silicon, in hopes of improving the semiconductor supply chain.
Google's opinion emerged in a submission to the Department of Commerce in response to the Biden administration's 100-Day Supply Chain Review of semiconductors and advanced packaging.
In its submission, the Chocolate Factory suggests NIST facilitate industry dialogue towards creating "standards that support the interoperability of silicon components across the ecosystem".
Google's argument suggests that increased standardization in chiplets would allow designers to utilize dies fabricated by various foundries, thereby increasing competition and diversity.
But Google doesn't want NIST to have the last word.
"Standards in this area would need to be sufficiently flexible to account for a broad range of customer needs and applications," Google's submission states. "While the Government can catalyze voluntary manufacturing standards, issuing mandatory standards would be counterproductive and could result in slower shifts to new technologies.
"To meet these needs, NIST should engage with the private sector to support the development of voluntary standards in this area."
The ad giant's submission also suggests a focus on long-term strategy, because "blunt short-term interventions could lead to further distortions and disruptions in the market". Which reads like a swipe at US and EU funding of new chip plants built and operated by existing silicon titans.
Chiplets are becoming popular because the modular ICs can be integrated into bigger chips, making it possible to add specialist or run-of-the-mill functions with less effort. The current poster child for chiplets is Intel's forthcoming Ponte Vecchio accelerator, which will use 47 of them – some from companies other than Chipzilla.
Given that Google's silicon needs straddle its cloud and consumer devices, standardization has the potential to make it easier for the company to get the kit it needs.
Google is not alone in discussing standards in its submission to the review.
But Qualcomm's filing worked the old angle that the US needs to dominate open standards groups.
"The Federal Government should support the participation of US companies in global standards setting and ensure that those standards are set in a fair, impartial, balanced, and consensus-based manner, in accordance with the fundamental rules of due process," the chipmaker stated.
"During the peak of the current shortage, there was not a single node where there was more supply than demand," Qualcomm's document added. The company detailed its battle to mitigate the shortages which included making the chips physically smaller, relying on "less constrained fabs" and modifying their product road map.
The submission from Korea's SK hynix claimed it was not affected by supply chain as its primary products – DRAM and NAND – follow different market patterns. The company said it experienced no delays or bottlenecks.
"Shortages rarely occur in the memory industry," wrote SK hynix's chief economist Dan Kim.
Few of the 150-plus submissions to the Review gave as much info: most redacted their public filings and made private submissions instead.
It's not hard to imagine why. The RFI from the Commerce Department asked all silicon supply chain participants – producers, consumers, and intermediaries – to voluntarily share data on inventories, demand, delivery dynamics, book to bill ratio, strategy, capacity expansion, and even asked respondents to name customers.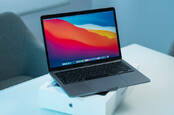 Apple is beginning to undo decades of Intel, x86 dominance in PC market
READ MORE
While the Department said its only interest in that data was understanding how to serve US industry, many industry players hesitated on grounds that the information required was commercially sensitive.
Both SK hynix and Samsung admitted they minimized submission of sensitive information on customers, sales and inventory details.
Indeed, a reading of SK hynix's report includes a steady reminder that the company has taken care with sensitive information – not only with words but with redacted comments in the publicly available submission.
"We appreciate that the submission instructions provided sufficient flexibility for us to provide transparency into our supply chain without specifying customer names or data, which allows us to protect our customers' interests," wrote hynix's Kim.
Taiwanese chipmaking giant TSMC's submission was typical. It offered a pro forma Excel spreadsheet and cover letter, and a nearly blank Excel file.
The Taiwan-based multinational semiconductor giant stated in late October that it would comply with the US Commerce Department request, raising concerns in Beijing that learning of the company's Middle Kingdom clientele could allow the USA to design more effective sanctions on Chinese companies and that compliance effectively represented "kneeling to the US". ®