This article is more than 1 year old
From the studio that brought you 'Mortal Wombat' comes 'Pernicious Possum'
Woman tells New Zealand police she was held hostage by small marsupial
Though it pales in comparison to the bloodlust seen in last year's tale of "mortal wombat" – where the marsupial allegedly went berserk on a family in the Australian outback – a possum holding a woman "hostage" in New Zealand is just as absurd.
Note that this is not the sabre-toothed death mouse otherwise known as the opossum, which is native to the Americas, but the cute, Yoda-like, and otherwise totally harmless Australasian phalangeriform.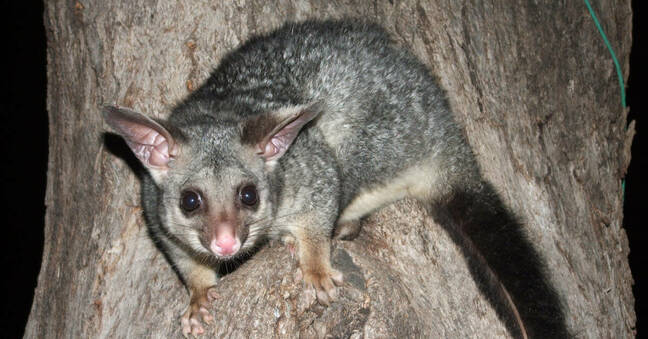 Menace
As with the wombat, it may be time to rethink that designation after a woman called police on Sunday night to say "a possum was holding her hostage" at her home in Dunedin, The Guardian reports.
We understand that the victim may have embellished somewhat due to the trauma – what actually happened was that every time the woman attempted to get into her car, the possum would "charge at her and she would flee inside," police said.
The coppers dutifully pulled up to assist. As they approached her front door, a shape emerged from the darkness and... climbed an officer's leg.
Relievedly for Senior Sergeant Craig Dinnissen, no slashing, gnawing or gouging followed. He reckoned the juvenile was either an escaped pet or had lost its mother.
Possums, though native to neighbouring Australia, have no business being in New Zealand and were introduced in the 19th century to be hunted for their fur. These days they are regarded as an invasive species due to their impact on trees and birds, and the lack of natural predators to keep numbers in check.
There is, however, a scene in NZ that takes care of injured or orphaned possums, which apparently make pretty good pets – if you can bear to have "every area of your face" licked at 5am every morning. Parents of young children know this feeling well.
The possum was released into the wild without harm befalling critter or officer, but the marsupial's days are numbered in New Zealand. The Department of Conservation's "Predator Free 2050" initiative aims to rid the islands of "the most damaging introduced predators that threaten our nation's natural taonga [Māori for treasured possession]."
This includes rats, stoats, and overly affectionate possums. ®