This article is more than 1 year old
GPU makers increasingly disengage from crypto miners
Nvidia moves most of production to gaming kit, AMD 'not servicing' the crypto segment
Nvidia and AMD have signaled they're trying to disengage from the blockchain market, preferring to instead sell to gamers.
Cryptocurrency miners have been a blessing and a curse for GPU-makers. The companies initially embraced the demand miners created, but then worried as that caused GPU shortages which made it difficult to project revenue.
Nvidia has even gone so far as to create products that are crippled to prevent cryptomining at the sort of speeds blockheads desire, to reserve capacity for gamers.
That strategy is still in play, and in the company's most-recently-reported quarter ended 30 October - Q3 of its fiscal 2022 - Nvidia revealed that miners contributed $105m of revenue despite it choosing to crimp supply.
"In Q3, nearly all of our Ampere architecture gaming desktop GPU shipments were lite hash rate to help steer GeForce supply to gamers," said Colette Kress, chief financial officer of Nvidia, according to a transcript posted on financial website The Motley Fool.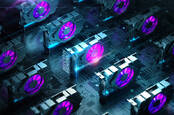 Truckload of GPUs stolen on their way out of San Francisco
READ MORE
AMD CEO Lisa Su last month said the mining-related revenue was "negligible" during the third quarter.
"It's not a segment that we have been servicing. We've tried very much to try to keep our gaming graphics focused on gamers. And we were able to increase some of the supply for graphics, and that's one of the reasons that we saw the sequential growth that we saw," Su said.
In the first quarter of 2018, Su said she liked bitcoin miners, but also said gamers were AMD's priority customers. In the next quarter, the company reported quarter-over-quarter decline in GPU revenue "primarily related to lower revenue from GPU products in the blockchain market."
Nvidia reported third quarter revenue of $7.10bn, up 50 per cent from the same quarter a year ago. On a GAAP basis, the company reported net income of $2.46 billion, up 84 per cent from the year-ago quarter. ®