This article is more than 1 year old
Should be easy to win the rights to .tv when you're name-checked in the contract's tech reqs – right, Afilias?
Funny how this has happened again
References to Afilias have been spotted in the technical requirements for the contract to run the trendy top-level domain .tv, suggesting the process is strongly stacked in the internet registry operator's favor.
If you're having déjà vu, it's because we blew the lid off the exact same thing in the battle over Colombia's .co.
In a story last Thursday, we reported that the tiny island nation of Tuvalu, which owns .tv, has invited companies to bid on the right to sell .tv domains.
Crucially, we revealed the unusual and illogical prerequisites to win this lucrative contract. For instance, despite there being only 500,000 .tv domain names, the government of Tuvalu said whoever wanted to run the top-level domain needed to have carried out "at least 3 transitions of TLDs over 1 million domain names." Not only that but the successful bidder also has to have transitioned "at least 5 TLDs, and at least 5 ccTLDs."
We have now been able to confirm that in the exact same way Colombia's technical requirements for .co were seemingly tailored for Afilias, language in the .tv fine-print also directly references the registry operator.
Tuvalu's .tv registry has been run for the past 20 years by Verisign, yet under the criteria published by the Tuvalu government, the dot-com giant would not be eligible to continue operating it.
Nor would GoDaddy Registry, which recently bought registry operations from Neustar, and says it owns, manages, or operates more than 240 top-level domains. And nor would Centralnic, which runs at least 50 top-level-domain backends.
In each case, these competitors to Afilias fail to meet one aspect of .tv's requirements, giving Tuvalu's government a simple way to hand the contract over to Afilias without having to address the bids on other criteria such as price, technical standards, and service levels. The bidding process is also being held in secret, behind closed doors.
We understand that another invited bidder for .tv is auDA, the company that runs Australia's .au top-level domain. But auDA itself uses the Afilias platform so it is effectively the same.
Not in the public interest
In the case of Colombia's .co rebid last year, the formal requirements for the TLD repeatedly cited Public Interest Registry, or PIR, the company that runs .org and whose technical backend is provided by Afilias. It appeared someone tuned the .co criteria to align them with Afilias's capabilities, clearing the way for it to bag the .co contract.
There was no reason why .org's PIR would feature in technical requirements for a completely different top-level domain, and its inclusion was seen as a clumsy attempt to award the gig to a specific applicant by stealth. It also didn't help that Afilias CTO Ram Mohan was pictured sitting next to Colombia's IT minister Sylvia Constaín at a round-table in Bogota months earlier.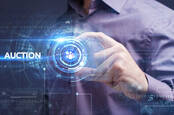 Ever wanted to own a piece of the internet? Now you can: $1 for a whole gTLD... or $2.8m if you want a decent one
READ MORE
A spokesperson for Afilias denied anything untoward happened, telling us at the time last year: "We have not met with the technology minister or the technology ministry in private to provide advice or documents regarding the .co tender." Constaín also said everything was above board, and resigned for a job in the private sector.
We have yet to see any pictures of Afilias bosses getting cozy with Tuvalu government officials, and we have asked the company to state if there have been any meetings or discussions with the island nation regarding its top-level domain. In the meantime, would you believe it? Afilias shows up again in the .tv files.
Included in the technical requirements is a reference to abuse protection service NameSentry – complete with its service-mark symbol.
Most of the largest registry operators offer some kind of abuse protection but only one offers NameSentry: Afilias acquired the service when it sued another domain security company, Architelos, into bankruptcy in 2016. As a result, NameSentry is inextricably linked to Afilias.
There is no reason why NameSentry would be identified specifically in technical documentation produced by the Tuvalu government.
What a coincidence
Taken together, Afilias – which is owned by domains giant Donuts since December – has, again, found itself name-checked in the requirements to run a TLD that its rivals have been ostensibly invited to bid on. Afilias has ignored our requests for comment and our offer to let it tell its side of this story.
Last time around, amid media pressure on the Colombian government to explain itself, Afilias withdrew its bid for .co and the contract for operating the top-level domain went back to its incumbent operator, Neustar.
As a far smaller country, with just over 10,000 inhabitants (as opposed to Colombia's 50 million), Tuvalu doesn't have much of an independent, free press. There is a digital publication, run by the government, and a single private newspaper, run by the Justice minister Dr Kitiona Tausi.
If Tuvaluans want to get the best deal from their most valuable digital asset, they would do well to take a closer look at the .tv rebid. ®