This article is more than 1 year old
Microsoft restores Remote Assistance to Intune – this time as a premium feature
Customers accuse Redmond of making standard functionality a pricey extra
Microsoft is restoring first-party support for Remote Assistance, logging onto a user's PC to troubleshoot, but "at a price above the existing licensing options."
Intune is the company's cloud-based Windows and device management tool. When first introduced as Windows Intune in 2010 (the days of Windows 7), it included a feature called Remote Assistance, in its neat Silverlight-based user interface.
Users with Intune-managed PCs could summon help via the client application, which would ping an administrator who could then connect to the PC and hopefully fix what was wrong.
Remote Assistance was removed as Intune became part of Enterprise Mobility and Security (EMS) focused as much on mobile devices as on Windows. The feature was missed since getting some kind of remote desktop connection to a misbehaving PC can be a huge time-saver, but there are plenty of third-party solutions.
Microsoft blessed one of them by integrating TeamViewer into Intune, leaving users responsible for the additional licensing cost. There are also other ways of approaching the problem, such as screen share in a video conferencing application, though not designed for this purpose; or the Remote Assistance tool built into Windows which on occasion gave would-be support staff the joy of talking the user through firewall changes as a prelude to actually connecting.
Now it is returning. "The need for a cloud-native remote assistance solution for Windows became more time sensitive for customers during the COVID-19 pandemic, when users could no longer visit their company helpdesk in person," said Ramya Chitrakar, partner director of Engineering for Microsoft Endpoint Manager.
Microsoft is not reinventing the wheel, though, and chose to "accelerate time to market by building from some existing technology." That may amuse admins who have missed this Intune feature for a decade or so.
Still, the solution chosen is none other than Quick Assist, the consumer feature built into Windows 10 and 11 since the Fall Creator's Update in October 2017.
Quick Assist uses Microsoft's tried and trusted RDP (Remote Desktop Protocol) but connects to a Microsoft relay service over port 443, as used for SSL and pretty much always open. The list of endpoints shows Lync and Skype URLs as well as the main relay service, which shows that Microsoft is using existing technology indeed.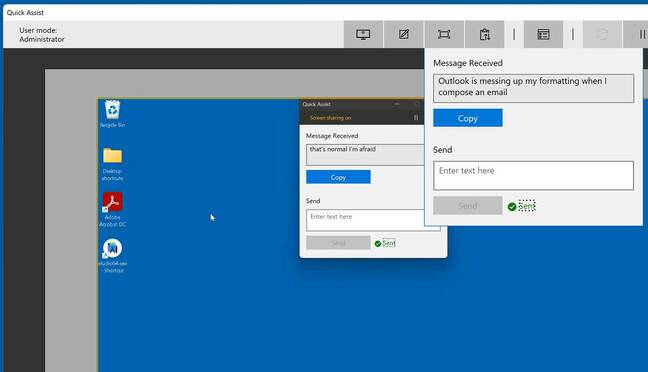 Quick Assist, remote assistance built into Windows 10 and 11
Microsoft has added what it considers enterprise features to Quick Assist for use in Intune. These include device compliance checks, role-based access control, elevation to local admin when needed, and session reporting. There is more detail here. Users can request help or admins can launch a remote assistance session directly from Intune, though the user has to accept the request; unattended sessions are not supported yet. Requests can be screen share only, or full control.

Security roles for remote assistance
One of the features is intended to "establish trust between helpdesk associates and users" via the ability to see profile information including "picture, name, company, job title and domain." Sessions are also limited to users within an organisation. It is worth noting here that the goal of many scams is to obtain a remote connection to a user's machine so helping users to understand what is real and what is fake is important.
There are many high-quality third-party solutions to this problem, but there is room for Microsoft's approach too, especially as on-premises remote assistance is already supported in Microsoft Endpoint Manager (MEM).
There is one annoyance, though, which is price. Eugenie Burrage, of Microsoft's product marketing, said: "When we roll out this functionality for general availability early in 2022, we intend to offer remote help as an advanced endpoint management add-on at a price above the existing licensing options that include Microsoft Endpoint Manager or Microsoft Intune."
Those third parties will be pleased, Microsoft customers not so much. "This was exciting right up until the price aspect," said one. "This is an expected feature of a MDM of the future, not a premium addon," said another.
A third, "Dear Microsoft, you had only a simple task: add QuickAssist to MEM, and yet you managed to create another 'premium' service."
There is also pushback on the lack of unattended access, a handy feature in some third-party solutions. Unattended access enables proactive support as well as making it easier for a help desk to work on a time-consuming problem, maybe involving a lengthy update process, while the user is away from their desk. Another big limitation is that this is Windows-only, even though Macs and mobile devices can be managed from Intune.
Other new features in MEM include the ability to manage Android devices without dependence on Google Play Services, and an updated Microsoft Defender, which "allows your Windows devices to receive security policy form Endpoint Manager, regardless of their enrolment status." Note these are preview features, with availability expected in 2022. ®