This article is more than 1 year old
Sun sets: Oracle to close Scotland's Linlithgow datacentre
Questions for tenants as Ellison's gang executes its OCI strategy
Oracle's datacentre in Linlithgow, Scotland is set to close over the next few months, leaving clients faced with a cloud migration or a move to an alternative hosted datacentre.
According to multiple insiders speaking to The Register, Oracle has been trying to move its datacentre clients to Oracle Cloud Infrastructure – with mixed results.
The Linlithgow facility dates back to the days of Sun Microsystems, which opened a manufacturing plant there in 1990.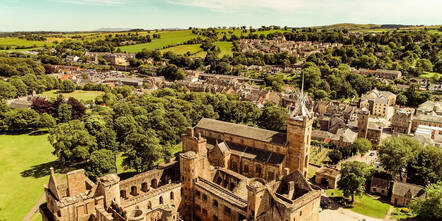 Aerial view of Linlithgow Abbey and the ruins of Linlithgow Palace with the larger town stretching behind it
After Oracle bought Sun in 2009, it decided to relocate its Scottish HQ there and build a datacentre which opened in 2012. The 160,000 sq ft West Lothian hub has 10MW of available power and N+1 redundancy systems, according to reports.
Oracle has been approached for comment about the Linlithgow datacentre closure and the future for customers using the facility.
Like many application and software vendors, Oracle has declared the cloud its platform of choice since launching Oracle Cloud Infrastructure in 2012.
In recent years, Oracle invested heavily in opening cloud "regions" around the world, including one in Israel capable of withstanding a missile direct hit. By the end of 2022, Big Red expects to open further facilities in the UAE, Saudi Arabia, France, Israel, and Chile, securing 44 cloud regions in total. In May, Oracle launched an Arm-powered cloud with Ampere's 80-core Altra processors for one US cent per hour per core.
According to Canalys stats, Oracle had a 2.3 per cent share of cloud infrastructure spending in EMEA during Q2, equating to roughly $248 million. This placed it in sixth spot behind AWS, Microsoft, Google, OVH and IBM.
The Linlithgow closure also raises questions for Oracle partners that have invested in the area. In 2019, Inoapps agreed a five-year lease on a 7,500 sq ft office and a £700,000 investment in Linlithgow. The managed service provider and Oracle Platinum Partner said it would move into Oracle's main campus building.
Martin Biggs, vice president and general manager of Oracle and SAP support firm Spinnaker Support, said Oracle was using the closure of the Linlithgow datacentre to migrate customers from its legacy Oracle Cloud Managed Services platform to their Oracle Cloud Infrastructure platform. "To aid with this they have offered clients help with the migration, which on the face of it is a generous offer: migrate off of a legacy platform without additional cost.
"Unfortunately, many realised too late that they would not be benefitting from key OCI features and having to leverage Oracle's 'Bring Your Own Licence' program they would now be wearing Oracle's golden handcuffs even tighter. Their options and choices to modernise away from Oracle for their remaining on-premise estate becomes severely restricted."
"As Oracle continues its rapid cloud growth we continuously evaluate and adjust our infrastructure to best meet customer and business needs. We currently operate multiple sites across the U.K. including major regions in London and Newport, Wales," an Oracle spokesman said.
Mark Vivian, CEO of Oracle support and managed service provider company Claremont, said the closure was a sign of Oracle's cloud trajectory, but not all clients wanted to move at the same pace.
"It's no secret that Oracle is undergoing a transitionary period where it is upgrading its datacentre estate in order to gear them towards the cloud and to compete with other public clouds such as AWS and Azure. As it brings its datacentre estate up to date so OCI is the default, not all of Linlithgow's tenants will share Oracle's cloud-first vision, and some will be hesitant or even resistant to any change.
"Any turbulence Oracle is currently experiencing at its Linlithgow datacentre could therefore be considered to be symptomatic of a wider trend: not all organisations feel that they are ready to renovate their systems at the pace Oracle is attempting to set," Vivian said.