This article is more than 1 year old
China's Yutu rover spots 'mysterious hut' on far side of the Moon
Cube-shaped object is probably just a rock. Yutu will check it out anyway
China's Moon rover, Yutu 2, has sent images of a strangely geometric object.
A post to Chinese social media site qq.com describes the object as a "mysterious hut" thanks to its cubic shape.
The post was made by "Our Space" – a qq.com account that promotes the feats of China's National Space Agency (CNSA) and appears to have some official approval to do so.
The "hut" is just 80 metres from Yutu 2's present position, and Our Space suggests CNSA's boffins are keen to trundle over and have a closer look.
Yutu 2 landed on the Moon in January 2019 and has been active ever since. It even holds the record for length of lunar operations, having passed 1,000 days of exploring in late September. At that time Chinese media reported that the rover had travelled 840m from its landing place in the Von Karman Crater and sent home 3.6 terabytes of data.
The rover's progress is intermittent, as it must endure lunar nights that last 14 Earthly days and are so cold it needs radioisotope heater units to keep its instruments warm enough to remain operational.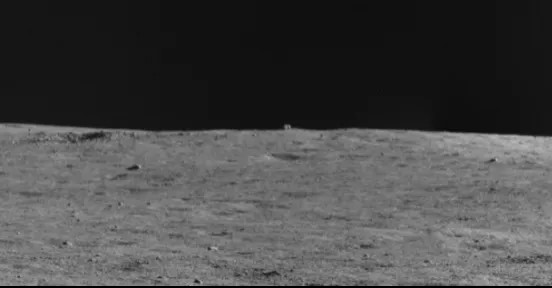 The 'mysterious hut'. Click to enlarge
Reaching the mysterious hut should take two or three days. Early analysis suggests it is almost certainly not a hut, but rather a rock that was blasted out of the Moon by an ancient impact.
If it is a hut … The Register suggests it could become hot property – if only because the 2.6-second round trip that light takes to travel between Earth and Moon probably makes it impossible to participate in Zoom meetings. Of course it's also not very convenient to shops, transport or local schools. ®