This article is more than 1 year old
The big AWS event: 120 announcements but nothing has changed
Our wrap-up: Instant Glacier storage, Kubernetes at AWS, Adobe pops up despite Microsoft partnership, and more
Re:invent AWS annual customer jamboree, Re:invent, is over, and while the firm impressed some attendees with tech advances, custom hardware like Graviton 3, and an array of new features, many were incremental rather than revolutionary.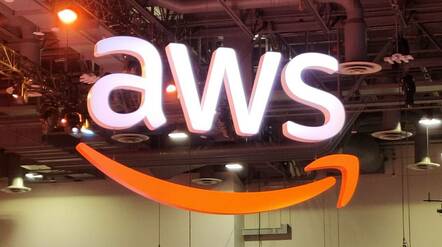 The AWS logo hangs over the Re:invent Expo
Re:invent, which takes place in Las Vegas, ran from Monday 29 November to Friday December 3 and had somewhere in the region of 20,000 attendees (including The Register), five keynotes, over 120 announcements, a substantial exhibition area, and thousands of meetings large and small, perhaps unwise during a pandemic.
"For real, mask compliance is pretty shit, distancing is pretty shit, and I feel complicit in being part of a superspreader event," was one attendee's gloomy pronouncement.
Nobody could be blamed for staying away, though the reduced numbers (fewer than one-third of the 2019 event) meant that the cavernous Venetian hotel and casino was not really crowded and caution was possible.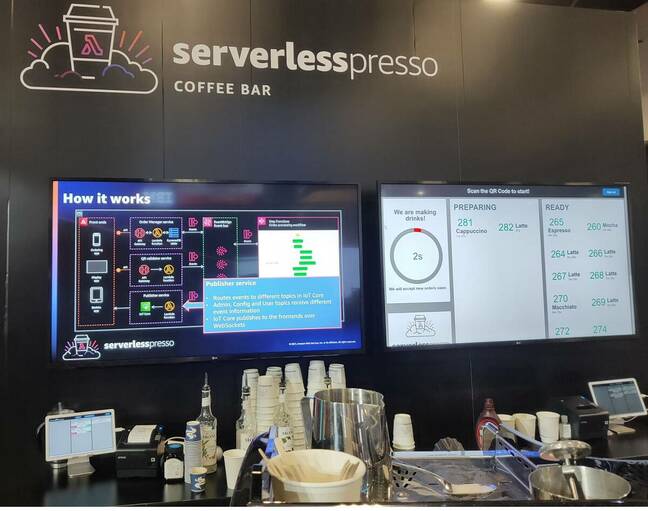 Severlesspresso at Re:invent: possibly a tad over-engineered but it worked
Why attend in person when most sessions were also streamed? The answer from a press perspective is that virtual events tend to be poor and also reinforce the ability of the big vendors to control their publicity, as there is limited ability to ask questions or to pick up any sense of the reaction of others present. Virtual events also lack immersion; it is hard to get a feel for a company's strategy or culture from a procession of videos.
That said, hopes of grilling this year's new AWS CEO, Adam Selipsky, were dashed when, at the only press conference he gave, questions were restricted to one narrow subject. We were given to understand that the rationale was to be fair to other journalists unable to attend. The question on our minds: how might AWS strategy change under Selipsky's guidance? There were some clues in his keynote, that with the cloud infrastructure building blocks now in place, AWS would inevitably move on to more packaged solutions like the Connect cloud contact center. This will in turn put more pressure on those selling solutions that run on AWS, to add distinctive value or risk seeing the cloud giant take that business for itself.
There is no indication of any dramatic change in direction. Selipsky is an old hand, having been at AWS from 2005 to 2016, before his spell at Tableau. Despite the 120 announcements, the general feeling at Re:invent was the new stuff was incremental and consolidatory rather than heralding new directions. Graviton 3 is cool but then so was Graviton 2.
Storage: Glacier Instant Retrieval and OpenZFS
Some of the more significant news was around storage, which may seem unexciting but is a key part of the plumbing that makes AWS successful. "Across the storage portfolio we have launched 95 major new features in 2021," storage VP Mai-Lan Tomsen Bukovec told The Register.
"Here at Re:invent we're bringing it up to 106."
One could quibble with whether all these features are "major" but it still reflects a fast pace of change. Glacier Instant Retrieval is new and combines low storage cost with the same retrieval speed as S3 standard.
The old Glacier is now called Glacier Flexible Retrieval and has no charge for bulk retrieval provided customers can wait 5-12 hours. The number of storage classes is now fairly confusing and the company suggests using its S3 Intelligent Tiering and Storage Lens to optimize what is used.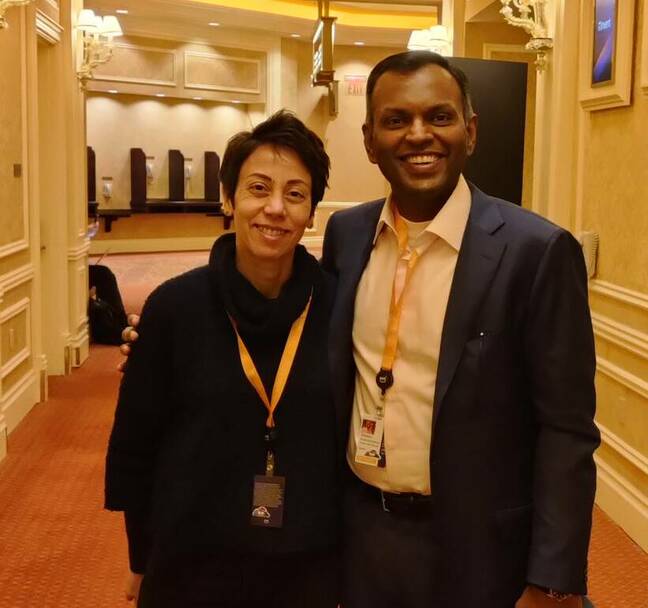 Mai-Lan Tomsen Bukovec (VP storage) and Swami Sivasubramanian (VP AI) at Re:invent
Leaky buckets
What about the problem of misconfigured S3 buckets leaking data? One change introduced at Re:invent is a new setting, "Bucket owner enforced", that disables access control lists (ACLs) in favour of policies. There are also new policy analyzer capabilities that will help.
"The policy validation in the S3 console has new S3-specific checks," Bukovek told us. "That's the big launch we did yesterday. Combine that with the S3 ACL disable, it is going to help customers prevent unintended access."
Another storage feature that was easy to miss: "FSx for Lustre is now powered by Graviton, its given a huge boost in performance to Lustre," Bukovec assured us. "We also launched OpenZFS, and that too is backed by Graviton so you get up to a million IOPS."
The specs are for 12.5 GB/s of throughput for frequently accessed cached data, and 4 GB/s and up to 160,000 IOPS from persistent storage.
Kubernetes: Not the only way to run containers
There was little mention of Kubernetes in the Re:invent keynotes. What is the AWS view of this technology, often touted as the future of infrastructure?
Containers are not the ultimate way to run applications," said Deepak Singh, VP Compute Services, talking to The Register at Re:invent. "The same customer, for different parts of an application, may choose running it straight on EC2 [Elastic Compute Cloud], or running EKS [Elastic Kubernetes Service] or ECS [Elastic Container Service] on top of that, and then big chunks of their applications may be running serverless on something like Lamba.
"The way we think about it is, a lot of people will use Kubernetes," said Singh, whether that is EKS, or Red Hat OpenShift, or those who "build and run their own Kubernetes – that number is small."
One Re:invent launch was Karpenter – for autoscaling any Kubernetes workload. "But we don't think it is the be all and end all of running containers. We see growth in Fargate, where most Fargate usage is with ECS. More than 65 per cent of ECS customers this year have chosen to use Fargate," said Singh. (Fargate is a serverless compute service.)
He added: "Whereas with Kubernetes we still see most of these on EC2."
The advantage of Fargate and ECS, said Singh, is "it's much faster [to get going], much easier to scale, you don't have to think as much." Overall, he said, "it's taking a more neutral approach to computing and trying to figure out what are the ways people want to run their compute."
The relevant launch at Re:invent was Fargate for ECS powered by Graviton 2, which the company claimed "delivers up to 40 per cent improved price/performance" versus x86.
Singh said the advent of Graviton, where AWS designs the chip, means that "over time, as Graviton becomes the dominant way many of our customers do compute, you will start to see us doing thing we may not be able to do with x86. This could happen at the container runtime layer, or in the networking layer, or with security, because we can do things on the processor when it comes to encryption, for example."
Cloud dominance?
AWS continues to grow, as does cloud computing overall, with the pandemic accelerating the existing trend. According to Synergy Research Group enterprise spending on cloud infrastructure services increased 37 per cent year on year in the third quarter of 2021, and AWS holds a 33 per cent share of this huge market.
Microsoft is next with 20 per cent and Google third with 10 per cent - which means the top three vendors hold 63 per cent.
Each of these companies, and AWS more than any, has become critical to the world's computing infrastructure; the implications of this are a matter for speculation. AWS is (generally*) reliable, innovative, and has a good track record for security: we have not seen anything as alarming as this from the company. It also has a lead in custom hardware with Graviton and Nitro.
AWS has become hard to avoid: even though Adobe, for example, stated in 2016 that Microsoft Azure was its preferred cloud, we got Adobe's Brandon Pulsipher, VP cloud operations, on stage at Re:invent, describing how it worked with AWS on what became S3 Glacier Instant Retrieval, which appears to be the solution for assets stored on Adobe Creative Cloud.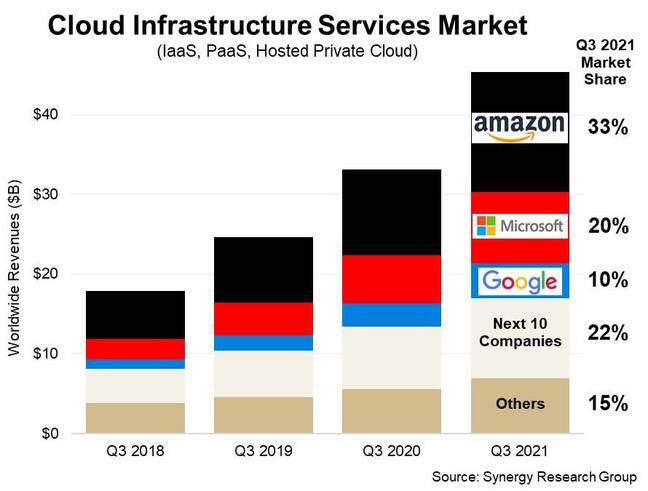 Cloud infrastructure market share in the third quarter of 2021 – via SRG Research
For all this, AWS's market share (as a proportion) has stayed relatively static: in Q4 2019, for example, Canalys put AWS at 32.4 per cent, Azure at 17.6 per cent and Google at 6 per cent.
Microsoft and Google benefit from their SaaS (software as a service) offerings, Office 365 and Google Workspace, which helps to drive infrastructure services thanks to integration and customer relationships. AWS, like the other hyperscale providers, can be undercut on price by smaller providers.
AWS is relatively weak on developer tools, despite efforts at Re:invent. Might AWS in future make a serious play for more SaaS business? It might, and that could make a big difference, but the moment has not yet come.
We expect, then, that despite 120 announcements: not much has changed in cloud computing at Re:invent, impressive though it was. ®
* This site has a list of major outages; it's really short.