This article is more than 1 year old
Lack shame? Fancy some festive Windows knitwear? We've got your back
Microsoft merch of Christmas Past up for grabs
FREE STUFF With the season of giving upon us, the cupboards of Vulture Central are being cleared out and long-forgotten items found that might be of use to our readership. Just think of us as tech tat peddling Gumtree.
One item in question is a Windows Ugly Jumper from a few years hence.
We don't actually know how this found its way into our wardrobe. Your humble correspondent discovered it this week and wore it to an editorial meeting in ironic fashion. Certainly, Microsoft didn't send it our way hoping for an apologist posting on our socials.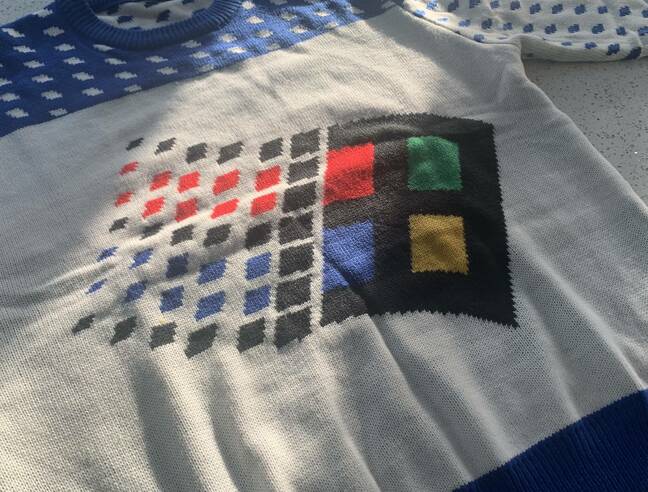 Click to enlarge
The item has, er, only been worn once (this week) and is size XXL (lockdown has been hard, OK?). It follows a theme of Microsoft's Christmas wares, this time conjuring up the Windows logo of old. Last year's sweater featured Microsoft Paint (now butchered in Windows 11) while this year is all about the classic Minesweeper, rather than the ad-festooned example squatting in the Microsoft Store.
Inexplicably, an XP-themed jumper can be had in one online tat bazaar for almost £200. So perhaps this might also be worth something one day to someone. In any case, it is warm and so therefore fit for purpose. Unlike - a cynic might suggest - Windows.
Then again, it might also leave the wearer a bit sweaty and itchy... just like Windows.
It could be yours, hopefully just in time for Christmas. Delight family and friends with a call-back to the Windows of yesteryear and a discussion on the pros and cons of Microsoft's flagship operating system.
If you'd like this monstrosity in your life (and have a UK address for us to send it to), please leave a comment below detailing what theme Microsoft (or another tech company) should adopt for next year's Christmas jumper and why. We'll select the one that caused the most guffaws within Vulture Central on Tuesday morning (14 December) and hopefully get it to you ahead of seasonal festivities.
If you win yet don't want the jumper, we understand. ®