This article is more than 1 year old
ZOE COVID Study app starts the week with a lockdown of its own
Symptom tracker suffers Monday morning borkage
The ZOE COVID study app is still reportedly wobbly for some users after being entirely down and out for several hours this morning.
It's all impeccable timing considering the UK government upped the local COVID alert level over the weekend.
The app, available on Android and iOS, has proven an invaluable source of data during the pandemic, providing estimates of infection based on symptoms reported by users, thus avoiding the lag inherent in logging lateral flow and PCR tests via UK government websites.
Those symptoms are then extrapolated to a regional and nationwide level to give an estimate of infection rates.
However, this morning from around 9.30 UTC it appeared to have joined the nationwide sigh at the UK prime minister's latest speech on the pandemic and had a bit of a sitdown.
The app's own symptoms of failure manifested as users found themselves unable to complete the logging process (or adding test results) before eventually giving up the ghost entirely and reporting time-outs even at the point of selecting a profile to report for.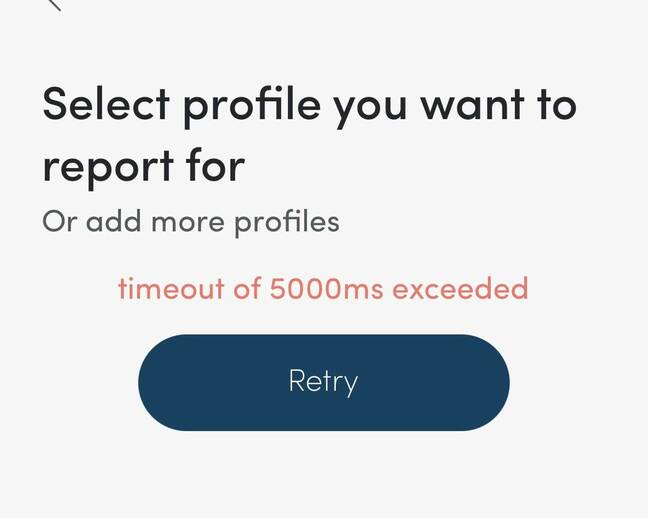 Click to enlarge
Naturally, The Register contacted ZOE to find out what had befallen its app – it said: "This is a known issue of which we are aware."
The problem appeared to be widespread, judging by social media. The organisation claimed at 11.20 UTC to have rectified any problems, although users still note lingering issues.
UPDATE: The ZOE COVID app is back up and running -thanks to everyone for bearing with us while we got the issue fixed.

— join_zoe (@Join_ZOE) December 13, 2021
The ZOE COVID study app is an impressive bit of repurposing; ZOE itself was (and, to a certain extent, is) all about nutrition, health and weight. However, as the pandemic took hold in 2020, the ZOE app became an invaluable tracking tool for symptoms of COVID-19.
The study itself is supported by a grant from the UK government, with data analysed by a joint team from ZOE and King's College London. It currently has approximately 4.5 million users, according to recent OBE recipient and principal investigator of the ZOE COVID Study app, Tim Spector.
As for the organisation's services, it gets protection from DDoS for free from Cloudflare and has Pentest hunt for vulnerabilities within its infrastructure. ®