This article is more than 1 year old
ExoMars parachutes just about good enough to land rover safely on the Red Planet
Nobody wants to see Rosalind Franklin scattered over Oxia Planum
The European Space Agency's (ESA) Rosalind Franklin ExoMars rover has successfully completed a high-altitude drop test.
The mission has been beset by delays. A launch over the July-August window was scrubbed as mission managers faced up to problems including torn parachutes. In earlier tests, drops from a helicopter appeared to go well, but a release from a high-altitude balloon did not. As one might imagine, the parachute is a critical bit of hardware, the failure of which could result in the rover being smashed to pieces on impact.
There are two main parachutes used to slow the descent module as it barrels through the Martian atmosphere. A 15m-wide first stage, which opens at supersonic speeds, followed by a 35m-wide second stage, deployed at subsonic speeds, are used to reduce velocity.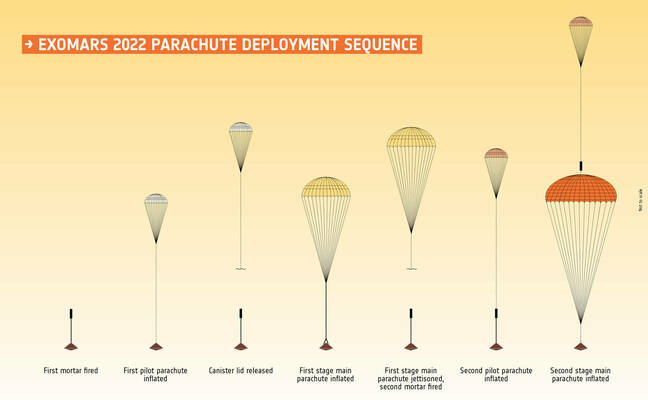 Click to enlarge (pic: ESA)
The 35m-wide parachute will be the largest ever to fly on Mars, according to ESA.
Following unsuccessful drop tests in 2019 and 2020, the team persuaded the first-stage parachute to behave itself in a high-altitude test in June 2021. The second parachute suffered minor damage after the unexpected detachment of the pilot chute. There was still deceleration but, as former ESA Director General Jan Wörner explained when announcing the delay in 2020, the team needed to be as near to 100 per cent sure as possible that everything would go well on the big day.
The latest set of tests, performed in Oregon on 21 November and 3 December, have worked as expected. Thierry Blancquaert, ESA ExoMars programme team leader, said: "Both parachutes deployed and flew beautifully. We have demonstrated we have two parachutes to fly to Mars."
That said, things weren't perfect. A handful of tiny tears 1-2cm in size and some friction searing were noted, but Blancquaert remained bullish, saying: "We can certainly fly as-is without any concern, but adjustments are still possible, and we will carefully scrutinize the results of the next tests early next year."
And more tests are indeed planned ahead of the shipment of hardware to Baikonur, Kazakhstan in late March and early April. Launch is currently scheduled for the end of September 2022. Landing on Mars, in the Oxia Planum region, is planned for 10 June 2023. ®