This article is more than 1 year old
And the winning entry for the Jumper of Windows Past is...
It looks like you're going to be isolating over Christmas. Would you like some help with that?
Our back-of-the-cupboard Microsoft knitwear is winging its way to a lucky(?) reader. Naturally, the winning entry for next year's theme was Clippy-related but there were some crackers from the Reg readership.
Shockingly, it appears that not everyone is a fan of the Windows giant or its wares. Def observed: "I think Microsoft's knitwear next year should continue the Windows 11 theme by putting the arms in the middle and stitching up the neck.
"Just like they've done to the taskbar and their users, respectively."
We'll lightly skip over the "just a Penguin getting fucked, that would say everything it needs to" from an understandably Anonymous Coward. Family show and all that, and anyway – Microsoft loves Linux now, right?
Wooosh shared the pain of admins around the world with: "It should be a jumper featuring an AADvent calendar.
"Bonus points if there are opening doors (windows?) which won't allow access because ADFS is feeling a bit delicate."
Others followed a theme. NotGoodWithComputers supplied the header "Something only Microsoft could do" and added: "You receive a quality jumper. Every month, a Microsoft employee comes to your house, takes a good look around with his clipboard and takes away your jumper. The next day, your jumper is returned but the sleeve is torn. It'll be fixed in the next update."
Tromos was a bit more succinct for next year's jumper, and said: "Same as this year, but with lots of patches applied."
But the winner? In the end there could be only one. The ghost of Office past was resurrected by tgpips, who said: "It has to be Clippy for next year, surely. Like the weird family member who drives you mad at the Christmas party but you have to somehow tolerate.
"I think we can all agree, that's the true meaning of Christmas."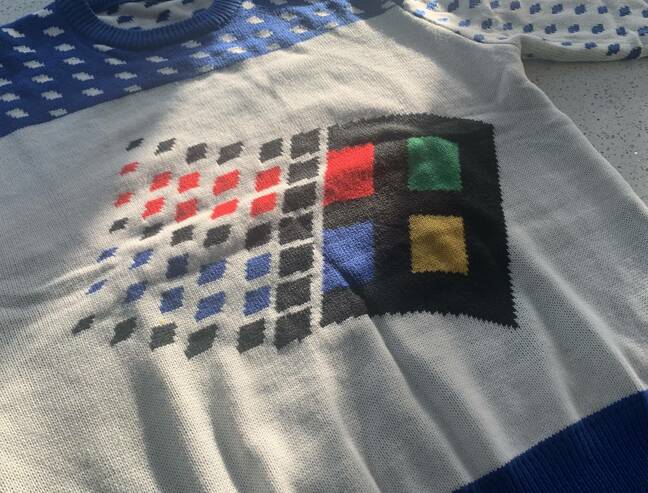 Congrats tgpips
We asked Microsoft for its thoughts on the matter. A spokesperson responded: "Hi! It looks like you're looking to wear a Christmas jumper. Good choice!"
Ho ho ho. ®