This article is more than 1 year old
Fisher Price's Bluetooth reboot of pre-school play phone has adult privacy flaw
'Chatter' can be bugged thanks to kindergarten-grade security
A Bluetooth phone designed to evoke the carefree days of early childhood has been found to instead threaten the very adult prospect of being surveilled in your home.
The phone is the Fisher Price Chatter Special Edition, a device that adds Bluetooth and a speaker to the smiling, brightly coloured, wheeled, rotary dial phone on which it's previously been possible to make calls only by using one's imagination.
The phone also bears the name "60G LTE" – which stands for "60 great years, Let's Talk Everywhere" and an infomercial for the handset opens with "The past has finally arrived" before lampooning mobile phone ads quite nicely.
The 2021 version of the device connects to a smartphone and can be used as a speaker phone, or to make calls. Even the rotary dialler works for outbound calls.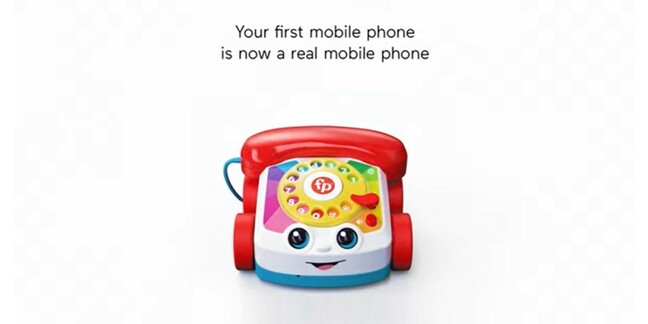 The Chatter Special Edition. Click to enlarge
Before you try to find a vendor capable of delivering this before Christmas, consider this post from security firm PenTest Partners, because it says the Chatter has security problems that can turn it into a spy phone.
The post states that the Chatter uses Bluetooth classic without secure pairing, which means it agrees to any pairing request.
Anyone within range could therefore hook up a Bluetooth device, and tune in to whatever is said within range of the Chatter's microphone.
PenTest Partners also found:
Someone nefarious nearby could also use the Chatter telephone to speak to and listen to a child in your home
Separately, if the phone handset is left off, it will AUTO ANSWER any call to a connected smartphone, in a kind of 'reverse butt dial'
The same attacker can also make the Chatter phone ring, so an unsupervised child is likely to answer
The security firm has called on Mattel, Fisher Price's parent company, to explain why the Chatter's security is so rubbish and suggested turning it off as the easiest mitigation.
The device has sold out and, thankfully, was only available in the USA
The original Chatter phone, with nothing electronic inside, remains available for $12.99. ®