This article is more than 1 year old
Wifinity hands customers bills for Wi-Fi services they didn't want but used by accident after software 'glitch' let 'fixed term' subs continue
Firm admits problem and then tries to cash in from own screwup
Members of the British Armed Forces Soldiers have reacted with anger after a British Wi-Fi provider failed to automatically end their time-limited contracts before charging them for consuming data "without subscription".
Ofcom-regulated Wifinity prompted a wave of fury when it told former subscribers on Ministry of Defence bases that they would be receiving bills running into the hundreds of pounds for data services that former customers didn't want and hadn't signed up for.
Those bills were then "revised" without explanation down to sums of £10-£30, as seen by The Register, in what one ex-customer told us was a cynical attempt to trick recipients into paying up to avoid further hassles.
A spokesperson for Wifinity told The Register: "Due to technical reasons, some Wifinity customers remained and utilised our network despite their subscription having come to an end. We are sorry for any inconvenience this may have caused, and a full investigation is now under way."
The spokeswoman continued in her statement: "We would like to reassure customers that, in line with Ofcom guidance, we have limited back payments to only those who continued to use the network over the last three months, despite their subscription ending."
One soldier, William, told us he had been on overnight duty at an RAF station and bought a 24 hour subscription to Wifinity: "When I left at 6am I never used it again. I got an email stating that it was intended to end on 24th September however it didn't … they're trying to say I used over 55 hours of internet and 9GB of data was used uncharged."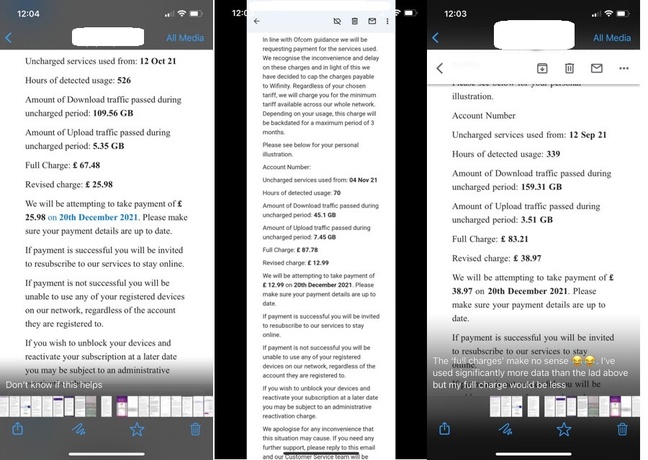 Wifinity bills sent to British soldiers, shown to The Register
Another soldier, Scott, said he thought his devices had connected to his base's business Wi-Fi network only to be unpleasantly surprised when he received a demand for payment. Scott told us he "Only paid for [Wifinity] service at another camp where there was no other option".
Although Wifinity emailed customers citing "Ofcom regulations" that allowed the company to bill them for services they didn't want and hadn't intended to use, it failed to identify the regulation on which it relied.
When El Reg asked, the company cited an unofficial version of the regulator's Ofcom Metering and Billing Direction [PDF], and its section 4.8.4 regarding delayed bills.
The company appeared to admit fault for the extra bills in a Twitter post:
Hi @fillyourboots @moddio. We recently contacted a minority of our subscribers regarding a software glitch that resulted in a billing issue. If you have received this message and you think it is a mistake, please contact us at support@wifinity.co.uk or DM us your details.

— Wifinity (@wifinityuk) December 17, 2021
When El Reg asked why what was first thought to be a billing system cockup was resulting in ex-customers being told to pay up, Wifinity told El Reg: "It is never our intention to financially disadvantage any of our customers and we provide dedicated 24/7 Customer Service support to anyone experiencing financial difficulties. Only customers who have used the service have been charged, and Wifinity has offered this at a substantially reduced rate."
Ofcom wasn't impressed, telling The Register that the regulation cited by Wifinity covers adding chargeable events to scheduled later bills if they were missed off by accident, not generating new ones.
In a statement a spokesman for the connectivity services regulator said: "Under Ofcom rules, the cost of an internet service should be clearly set out when a customer signs up to it, including the length of the contract term and the process for renewing or cancelling the contract at the end of that term.
"Customers who believe they have been incorrectly charged should initially raise a complaint with the company directly, and if that doesn't resolve the issue, take their case to the ombudsman to settle the dispute".
Wifinity's (undated) terms and conditions on its website explain that its "fixed term" packages are in fact a monthly recurring subscription:
Where Customer has chosen a fixed term subscription for a predefined period number of months, Wifinity will take payment from the Customer each month on the same date or every 4 weeks from when the subscription was started until the end of the fixed term. At the end of the minimum term, the contract will automatically switch to a 4 weekly recurring package on the same product...
The four weekly recurring package - not a month - means customers have 13 billing periods during one calendar year.
Alfie Usher, MD of insurance biz Forces Compare and who highlighted Wifinity's demands on his military themed Facebook page "Fill Your Boots", let El Reg know he was unable to comment because he'd lost his internet connection.
Wifinity's website says it provides paid-for Wi-Fi services at around 100 Ministry of Defence locations around the country. It also says the firm provides business connectivity to the MoD as a Fujitsu subcontractor, and has – somehow – signed the Armed Forces Covenant, "a promise by the nation ensuring that those who serve or who have served in the armed forces, and their families, are treated fairly".
Nothing says "fair" like a "fixed term" subscription that has no fixed end point and which bills you 13 times a year. Merry Christmas! ®