This article is more than 1 year old
Some errors fill the screen. And some come from the .NET Framework
Go on. Click Continue. We dare you
12BoC Microsoft goes large today in our 12 Borks of Christmas as the .NET Framework muscles in on a reader's attempt to pay for his parking.
The machine, snapped by Reg reader Dylan, is squatting in a Watford shopping centre. "The Harlequin/Intu/Atria/Whatevertheheckitscalled," he said, belying the confused identity of the venue, which started out life as the Harlequin Shopping Centre in 1992 before being rebranded "Intu Watford" and eventually getting the moniker "Atria Watford" earlier this year.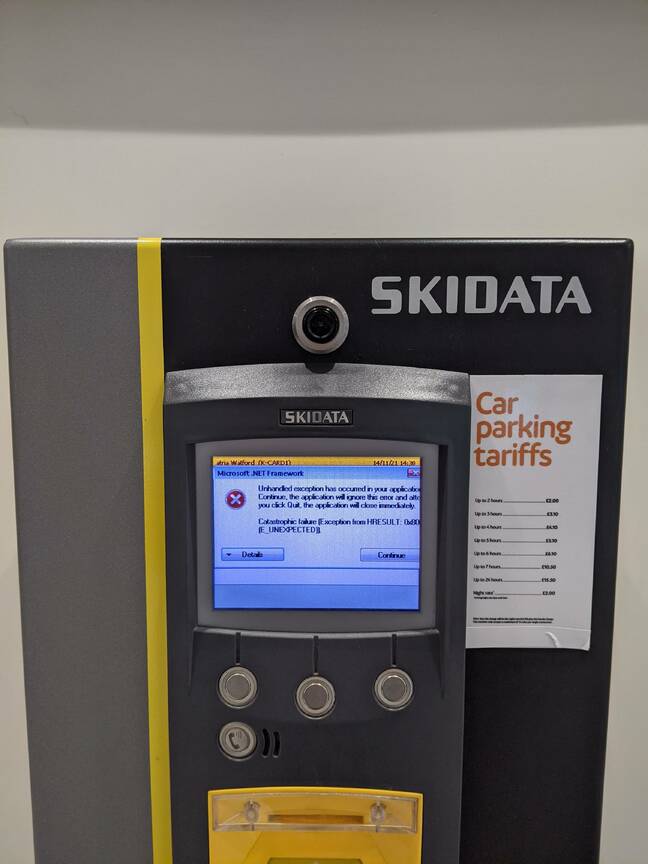 Click to enlarge
It modestly describes itself as "Hertfordshire's top retail destination" despite the departure of the John Lewis and Debenhams stores that once anchored the place.
There is, however, no confusion with regard to what is running on the parking terminals. A "catastrophic failure" has occurred, according to the .NET Framework dialog with typical understatement.
We're not convinced how catastrophic this failure actually is. After all, Windows helpfully offers the option to ignore whatever exception has gone unhandled and carry on. Presumably doing so would increase the alert level from "catastrophic" to "this parking machine will self-destruct in five seconds. Four. Three…"
Also slightly concerning is the age of the operating system running behind the scenes; the window has rounded corners, something that has Microsoft fanbois drooling over Windows 11 nowadays, but the title bar and buttons carry the whiff of something distinctly out of support.
As for what has upset the .NET Framework, other than realising an open-source alternative exists, we can't imagine. Sadly, although there is a Details button, there is little visible to clue us in with regard to where the app went wrong, nor why someone decided Windows was an appropriate choice for a machine design to extract cash from customers.
Oh, wait a minute. Extracting cash from users? Our apologies... Windows was the perfect choice. ®
A little ditty we are calling: The 12 Borks of Christmas '21
♬ On the seventh day of Borkmas, the bork gods sent to me:
A catastrophic failure;
Some... leaky... memoryyyyyy ....♬;
and a Notepad where nary one should be♬