This article is more than 1 year old
Going round in circles with Windows in Singapore
A mystery error message bedevils Mass Transit Passengers
12BoC Some errors are descriptive. Some errors are misleading. And some errors… well, your guess is as good as ours. Welcome to another entry in our 12 Borks of Christmas.
We venture abroad for today's example of sick signage, which has seen better days and is badly in need of an operating system upgrade.
"Another fantastically descriptive error from our friends in Redmond," remarked the Register reader who was waiting for a train to the Microsoft Visual C++ Runtime Library.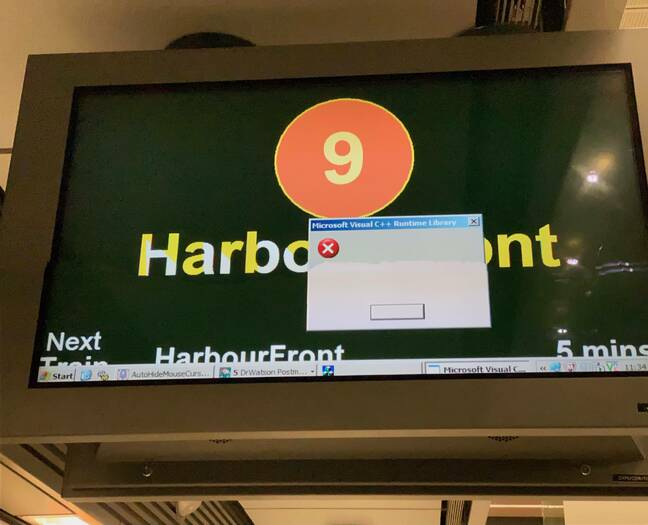 Click to enlarge
We're not sure what has gone wrong here. There is no text visible on either the dialog nor even the button. It is all very much ghost in the machine or a bork in the box.
And this is a very, very old version of Windows. The Start button hints at perhaps the Classic shell, or maybe a variant of Windows CE. There could easily be some XP shenanigans happening, and the system tray is a veritable rogues gallery, from the inevitable McAfee icon to something relating to SQL Server.
Even dear old Doctor Watson has paid a visit with his debugger. Five times, by the looks of things, meaning something must be terribly wrong.
As for the next train, it appears to be headed to HarbourFront on the Circle line of Singapore's Mass Rapid Transit network. HarbourFront is a terminus for both the North East and Circle lines. It opened in 2003 but it appears the software running behind the screens of the Circle line has not kept up with developments.
Normally we'd say that was no bad thing. If it isn't broken then there is no need to fix it. However, in this instance, things seem very broken indeed. ®
A little ditty we are calling: The 12 Borks of Christmas '21
♬ On the eighth day of Borkmas, the bork gods sent to me:
You need an OS upgrade;
some... leaky... memoryyyyyy ....♬;
and a Notepad where nary one should be♬