This article is more than 1 year old
Bork ends where it began. At McDonald's, home of the finest bork product
Bork bless us, everyone
12BoC We reach the end of our 12 Borks of Christmas today and, really, there is only one place to end: where it all began, with an unhappy touchscreen at McDonald's.
Spotted by a Register reader in California, the self-service kiosk is normally a place where customers can jab a screen before lining up to receive whatever fried delights are to be dropped into the brown paper bag (or tipped into the kiddie-pleasing cardboard box.)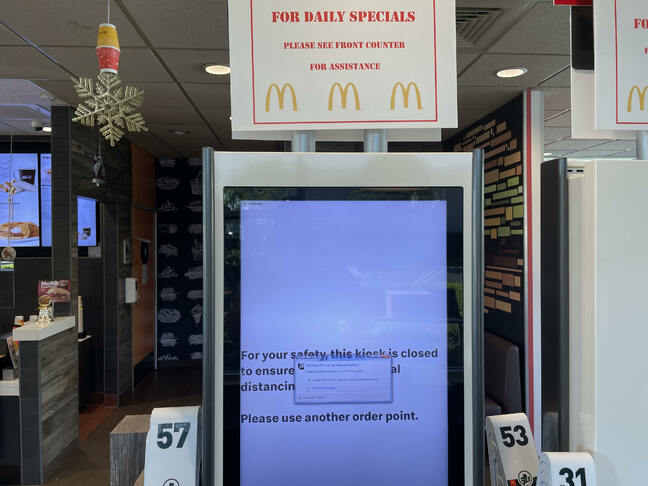 Click to enlarge
However, all is not well. Despite the kiosk being closed in order to stop customers crowding too closely together when deciding how best to clog their arteries that day, Windows is not happy and the McDMagnifier.exe application has stopped working.
Some of the fast food flinger's products have been known to magnify the waistlines of a good few customers, but denying folk their fatty fix in this instance is all the work of the computer behind the scenes, which is running a possibly out-of-support version of Microsoft Windows.
Still, there is one thing El Reg can say for the McDonald's franchise: it is consistent. Wherever our readers go in the world, they can normally track down its wares in familiar form. And even its borkage, particularly the badly behaved McDMagnifier.exe, has cropped up in various locations. We, for example, last saw its baleful gaze in Chicago.
This time around, however, there are some cheery decorations to lighten the heart (right up until you shovel in that Big Mac and Large Fries.) The addition of the disposable cups above the Christmas decoration really sets things off a treat.
McDonald's is where our odyssey of bork began with what we called a Beef Screen of Death in London's Victoria Station back in January 2020 and it seems appropriate to call a halt to the series here, at another McDonald's.
Many thanks to all the readers who sent in their snapshots in the past 12 months, we looked at them all even if we weren't able to reply to every email. Until the BSOD bothers us once more... Bork out. ®
A little ditty we are calling: The 12 Borks of Christmas '21
♬ On the twelfth day of Borkmas, the bork gods sent to me:
A Beef Screen of Death;
some... leaky... memoryyyyyy ....♬;
and a Notepad where nary one should be♬