This article is more than 1 year old
Halo Infinite ups the nostalgia factor for fans of the originals, but it's not without limits
343 Industries brings open world to the long-running military sci-fi epic
The RPG Greetings, traveller, and welcome back to The Register Plays Games, our monthly gaming column. Although the outside world keeps going to shit, at least the closing months of 2021 saw the biggest shooter properties duke it out in time for the festive period. Battlefield 2042 was void of Battlefield feeling while Call of Duty: Vanguard was similarly said to be "meh" – though I wouldn't really know, I stopped playing the franchise over a decade ago. However, in terms of quality at the point of release, Halo Infinite has stepped out as the clear winner.
First off, a disclaimer. I haven't played a Halo game with any sincerity since the third entry from 2007 so I've missed a lot. On the business side of things, the original trilogy, as well as spinoffs ODST and Reach, were developed by the formerly Microsoft-owned Bungie. Following Halo 3, Bungie split from Redmond to become an independent company while Microsoft retained the rights to Halo. Bungie now develops and publishes the Destiny looter-shooter series.
Since Halo 4, development has been handled by 343 Industries, a part of Xbox Game Studios formed specifically for this purpose. Fans weren't best pleased at being ditched by Bungie and the gradual modernisation of Halo under 343, but it hasn't harmed the series' stature as a gaming powerhouse, selling 81 million copies (and a fair amount of Xboxes) as of early 2021 and spawning countless novels, comics, animations, short films, and feature-lengths.
My gaps in understanding due to a 15-year hiatus are huge but the upshot is a smorgasbord of cool military sci-fi tropes. Precursor races inadvertently cause a galactic plague then activate a superweapon made up of several 30,000km ring-like structures (the Halo Array) designed to wipe the Milky Way of sentient life before conveniently disappearing.
A hundred thousand years later, a theocratic alien empire called the Covenant, which holds the Forerunners as gods and the Halos as tools of transcendence, wages holy war upon humanity. The United Nations Space Command (UNSC) creates a programme of enhanced supersoldiers known as Spartans to combat the threat, and for most of the series the player takes the mantle of the somehow-still-not-dead-after-six-games Spartan, Master Chief Petty Officer John-117, colloquially known as Master Chief.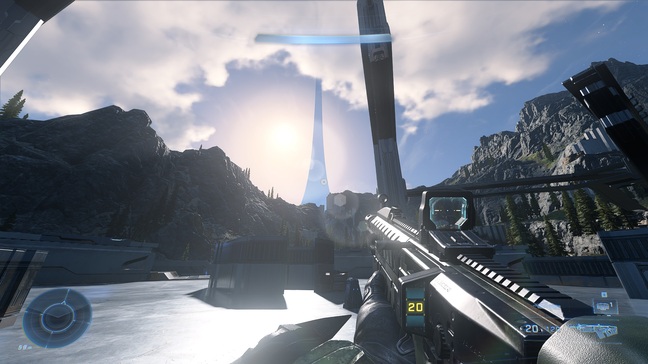 The view doesn't get old even after all this time
The early games grappled with the mysteries of what the Halos were for and the motivations of the Covenant. By Halo Infinite, which launched a surprise multiplayer beta on 15 November followed by full release on 8 December, the array is known to comprise a number of rings and the action takes place on Installation 07 or Zeta Halo, which shows signs of heavy damage. Without getting too much into the lore – because I don't know it – Cortana, Master Chief's long-suffering AI partner, has been defeated after going rogue in Halo 5: Guardians and the main antagonist aside from Forerunner technology is Covenant splinter group the Banished.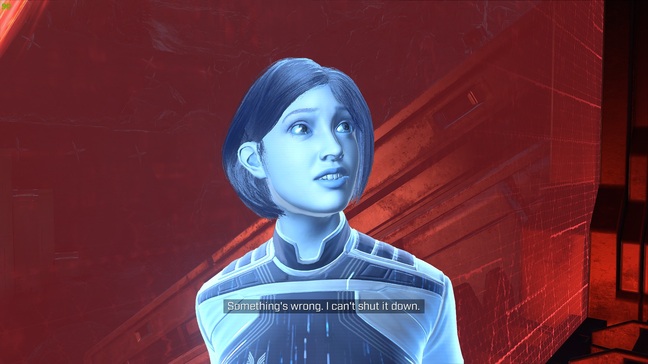 Bubbly AI The Weapon is a welcome addition
Following a Banished attack on UNSC ship Infinity, Master Chief is spaced by the faction's leader, Atriox, and presumed dead until his signal is located by an adrift Pelican pilot, Fernando Esparza, who longs to return home after the catastrophic defeat. However, 117 insists on continuing the fight and the pair follow the paper trail down to Zeta Halo, which is controlled by the Banished. There they are reunited with The Weapon, another UNSC-created AI designed to isolate and lock down Cortana for deletion. The Weapon replaces the role Cortana had in previous games as Master Chief's partner. Her perky youthfulness and voice acting, again contributed by Jen Taylor, is delightful. Thereon, the team, aided by UNSC forces still in the area, attempt to decipher what happened to Zeta Halo and why the Banished have taken root.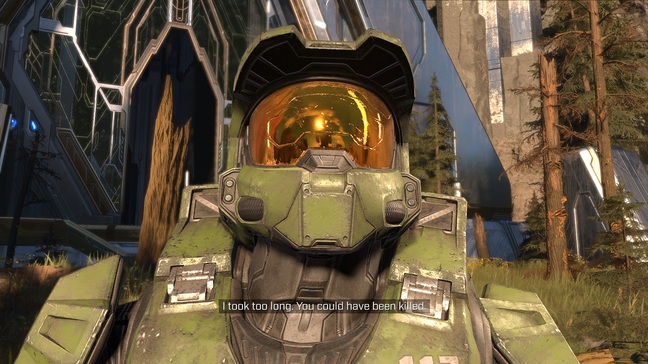 All cutscenes are performed in-engine
Fortunately, one does not have to be a Halo lore boffin to appreciate the direction in which 343 has taken the series, and I have a sneaking suspicion that many long-term fans may hold Infinite as a return to form. The gameplay feels more like Bungie's Halo 3, widely regarded as the franchise's peak, than I could have expected, and my muscle memory (such as it is after transitioning from Xbox to PC) was right at home. However, the biggest development is that Infinite is open world, comparable to the structure of a Far Cry game with multiple side objectives scattered across a large map that the player can complete at their leisure, but also including linear portions of the main quest which pay homage to the excellent level design of previous games.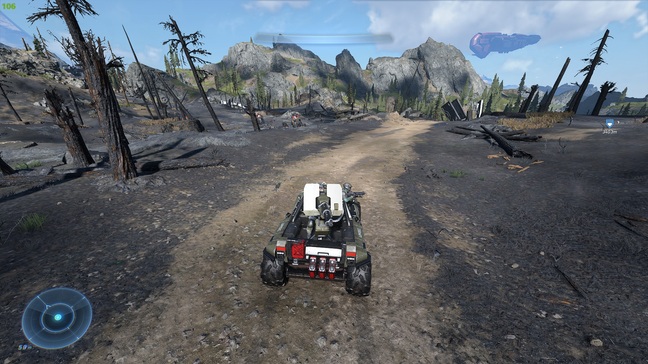 Speeding a Warthog through blasted terrain
There are a number of different types of side objective ranging from capturing enemy forward operating bases, to rescuing under-siege UNSC soldiers, to assassinating high-value Banished targets, to neutralising massive Banished strongholds. The latter ranks as my favourite activity as it sparks hectic and prolonged firefights with sub-objectives. Although these are mostly optional, there are benefits to completing them as they reward valour, which unlocks additional vehicles and weapons to be equipped at captured FOBs.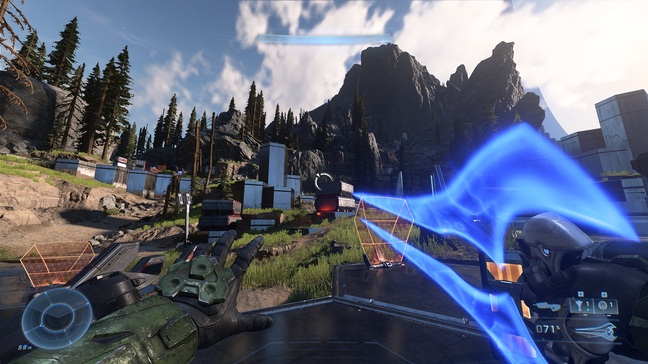 The energy sword makes a welcome return, along with other iconic weapons
When deciding on a loadout at one of these hubs, the player can select two firearms and a vehicle, which is cinematically brought down from the heavens by Esparza's Pelican, sometimes hilariously crushing a wayward UNSC trooper on descent. At times the gargantuan main quest also spans multiple locations on the map, meaning that if you can't go around a Banished stronghold, you'll have to go through it.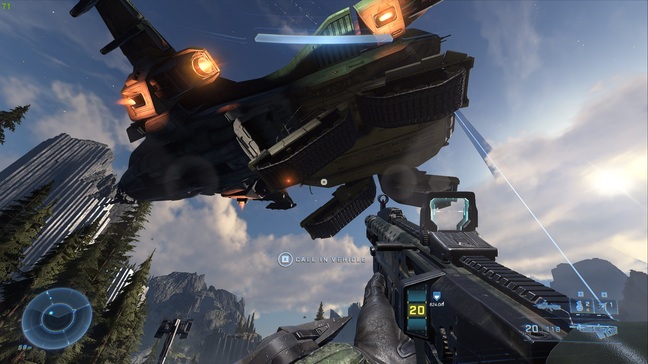 Calling in a tank via Pelican dropship
Another alien-to-me but neat addition is Infinite's focus on gadgets. Starting out, Master Chief's suit is equipped with a grappling hook which can zip up to hard-to-reach places – including mountainsides if you don't fancy busting through an enemy blockade. It can also help with combat mobility and makes you feel like Spider-Man. Other useful equipment – such as deployable shields, wall-hacking sonar, and suit thrusters – can be unlocked by progressing through the campaign. Exploration is advisable since it can lead to the discovery of Spartan Cores, which are used to upgrade your gear.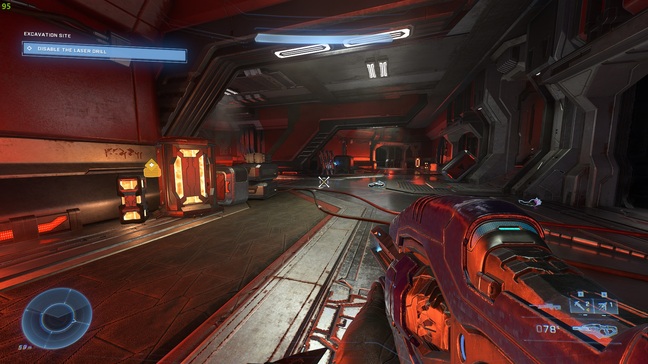 Interiors can be dark and moodily lit
Graphically, Infinite is epic. Odd hexagonal protrusions dot the mountainous and forested terrain, perhaps suggesting that Zeta Halo is attempting to repair itself. Massive capital ships dominate the skyline, and alien fauna seem to have made themselves at home on the installation somehow. Iconic weapons are rendered faithfully with all the accoutrements made available by advances in graphical processing, facial animations are decent, and of course there's that timeless view of the horizon rocketing into the sky (the soundtrack is awesome too but that's a given by now).
It is also one of the most stable fresh releases I've played over the past year. Bugs were negligible except during one of the plentiful boss battles where the hammer-wielding Brute sent me flying up onto what I guess was some sort of doorframe, where I could wear down his shields in safety while he stood there with his dick in his hands. I've never been so grateful for a glitch – he had already killed me about 15 times because I went into an unexpected fight with suboptimal ammo and weaponry.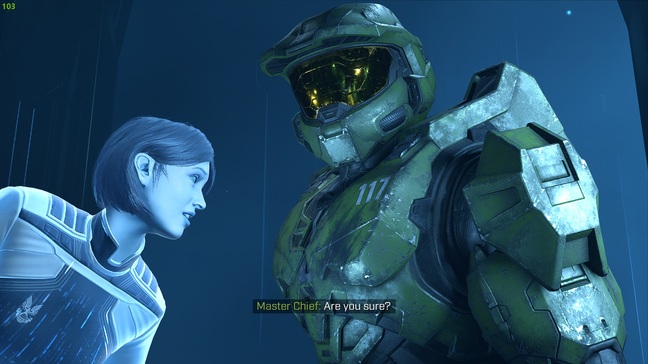 The Weapon acts as Master Chief's guide and door-opener
Unlike other shooter franchises like Battlefield or Call of Duty, whose appeal relies on multiplayer, the single-player story has always been Halo's trump card. A multiplayer-only Halo would be heresy at this point, whereas Battlefield 2042 safely ditched its campaign, but that doesn't mean Halo's longevity isn't also dependent on competitive gameplay. What I saw of multiplayer was fresh yet familiar – and most importantly fun. There are unranked options for those who just want to muck about and enjoy themselves, and ranked modes for the hardcore who have probably been playing Halo 5 all this time because it's all they know. It's not something I'm prepared to get too deep into since I still sting from being unable to rank above Second Lieutenant in Halo 3.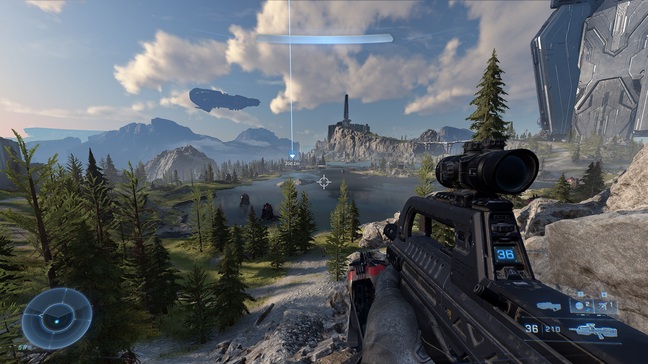 Waypoints can be dropped on the map to help navigation
Big Team Battle is still Big Dumb Chaotic, and smaller-scale modes like Slayer, Capture the Flag, and Strongholds are reminiscent of Halo's glory days. Where it's let down, though, is the Battle Pass where players pay a subscription to unlock cosmetics for their Spartan. Such customisations can be found during the campaign, yet having to pay actual money to use them is a bit of a slap in the face. While this is clearly because the multiplayer portion is free to play, I'm happy to be that guy still using the default skin no matter my rank.
So despite the name, Halo Infinite does have limits* – at least for the moment. The most glaring is the omission of co-op campaign. I was looking forward to hammering out the storyline over network with my partner, a much bigger Halo fan than me, only to find that it had not been implemented. That said, 343 head honcho Chris Lee told IGN: "Halo Infinite is the start of our platform for the future. We want Infinite to grow over time, versus going to those numbered titles and having all that segmentation that we had before. It's really about creating Halo Infinite as the start of the next 10 years for Halo and then building that as we go with our fans and community." Co-op campaign is touted to be released in May.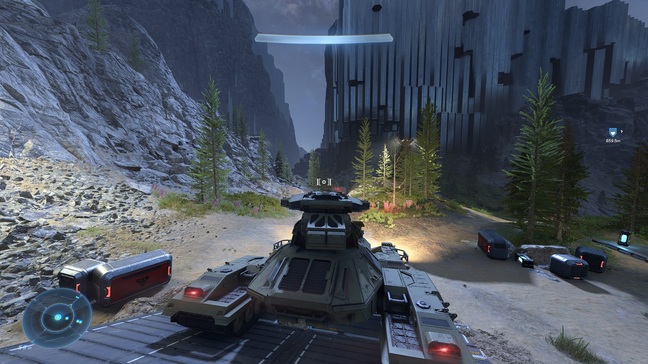 Being able to call in a vehicle is a game-changer
So Halo Infinite looks set to be Halo-as-a-platform. If only Microsoft had stuck to its guns and done the same for Windows 10 instead of gifting the world Windows 11. ®
Bootnotes
*Oh, and one final niggle. Trees are still immortal and more effective at delaying your journey than tank traps, even if you are attempting to push through them with said tank. I'd cry out for a fix but after all this time, it does not seem like one would be forthcoming.
Rich played and may continue to play Halo Infinite on Twitch as ExcellentSword. Chuck him a follow for more video game impressions as they happen! Every Monday, Wednesday, Friday, and Saturday from around 8:30-9pm UK time.