This article is more than 1 year old
IT labor rights group files complaint against HCL, claiming it's clawing back bonuses
NGO claims staffers who resign are forced to return advance variable pay
Pune-based IT labor rights nonprofit Nascent Information Technology Employees Senate (NITES) has filed an official government complaint against HCL Technologies, India's third largest IT company, alleging the business has instituted a policy to claw back bonuses from resigning employees.
The Register obtained a copy of NITES' complaint, which claims:
We have received multiple complaints from employees across India that the employer HCL Technologies Limited has initiated a policy to recover bonus[es] paid to the employees. If the employees fails to pay the amount, his/her experience certificate, relieving letter and other employment documents & benefits are withheld by the company.
The document alleges that this violates India's Payment of Bonus Act:
Payment of bonus is the statutory liability on the employer and receipt of bonus amount is the legal right of the employee and the amount to be paid, to whom to be paid and by when to be paid has been well framed in the Payment of Bonus Act... The employees resigned from the service also are entitled to bonus for their tenure.
India's Payment of Bonus Act [PDF] stipulates employees can be disqualified for a bonus on three conditions: fraud; riotous or violent behavior while on the premises of the establishment; or theft, misappropriation or sabotage of any property of the establishment.
There are some quite complex accounting rules included in the legislation, so one cannot dismiss the possibility that the alleged policy would be within the law. We have asked HCL if it had seen the complaint and whether it could confirm the alleged policy.
It responded: "We would like to put on record that the matter around recovery of bonuses has been incorrectly reported. As a law abiding organization, HCL follows the best HR practices and continues to honor commitments and work in a fair and equitable manner towards all employees."
The IT services biz also said it was "a global conglomerate and a responsible corporate citizen known for its 'employee first' policies. Supporting employees is HCL's top priority. We have strict global compliance policies whereby every relevant applicable law, including those applicable to employees, are adhered to as per the laws of the countries we operate in."
The president of IT labor rights nonprofit NITES, Harpreet Singh Saluja, told The Register that his organization had received 20-30 complaints per day since HCL allegedly began enforcing its new Employee Performance Bonus (EPB) policy on January 2nd.
The company apparently sent a broadcast email announcing the policy in November 2021, seen by The Reg. It appears to say that according to the policy for offshore, HCL staff will be paid a bonus monthly. If an employee leaves mid-year, the amount paid in that year to the last working day (LWD) will be recovered. According to the email, the LWD will be taken as 31 March 2022, so if a staff member leaves on 3rd March 2022, the amount paid from 1st April 2021 through to 28th February 2022 will be recovered.
The email adds that onsite payouts will still be quarterly and anyone leaving during a quarter will not receive a bonus for that quarter.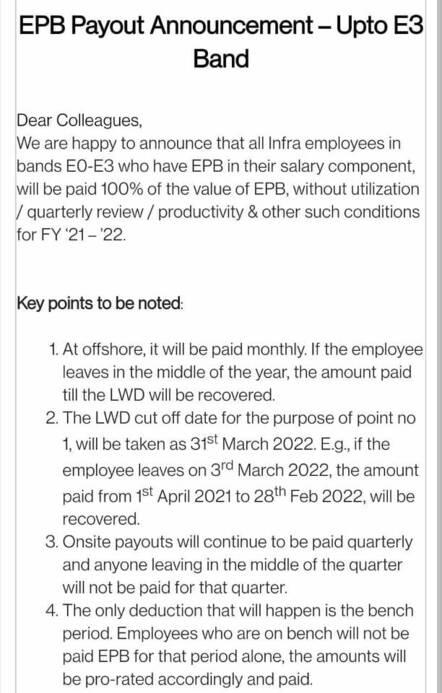 "As per the new policy the employee will have to return this variable or incentive/bonus amount if he [or she] decides to leave the company before appraisal cycle," explained Saluja.
NITES said complaints so far received by the org had come from employees claiming they'd been asked to pay back up to 1.7 lakhs (US$2,300) before leaving the organisation. These emails, seen by The Register, detail financial hardships endured due to the unexpected recovery of money the former staffers had already spent.
According to the NGO's president, the financial hardship is all part of the plan to keep HCL employees from joining The Great Resignation.
"Mostly employees receiving this amount quarterly have already spen[t] this amount, hence to stop attrition the company has initiated this policy," said Saluja, adding "NITES condemns this illegal practice of HCL Technologies... The policy is hampering the future growth of employees and is arbitrary."
We were told HCL Technologies employs more than 170,000 staffers in India. A policy like this would affect all employees, not just those who have already resigned, as it may make some them fearful to leave their job, but according to Saluja, the problem extends beyond HCL.
"IT sector employees in India are working in great stress and fear," said Saluja, citing a concern of being maligned by their current employers to any future employers – and threats from HR that they'll be placed on some sort of blocklist if they try to switch jobs – as a major source of that stress.
HCL Technologies is currently facing off against a whistleblower lawsuit in the US accusing it of wage theft, and underpaying H-1B workers by at least $95m a year.
HCL denies this and told The Reg in December: "HCL Technologies is strictly compliant with all relevant rules and regulations and is committed to pay wages to all employees in accordance with applicable laws." ®