This article is more than 1 year old
China puts Walmart in the naughty corner, citing 19 alleged cybersecurity 'violations'
Warning comes weeks after govt body accused subsidiary Sam's Club of 'ulterior motive' in goods stocking spat
American budget retailer Walmart was cited for 19 alleged cybersecurity breaches in China, state-sponsored media reported last week.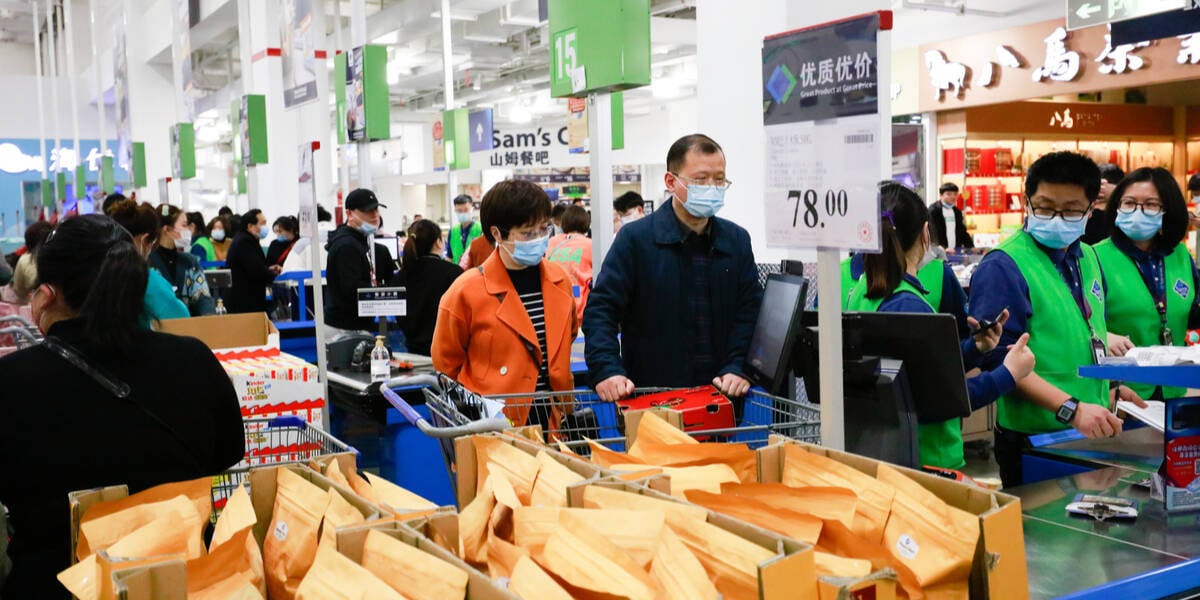 Chinese customers buy imported products from all over the world at a Walmart Sam's Club in early 2021. Sam's is one of the largest members-only stores in the world
"It is reported that the public security organs discovered nineteen exploitable network security vulnerabilities in Walmart's network system on November 25, 2021, and [the company] did not deal with system vulnerabilities in a timely manner," said China Quality News, a mouthpiece for the country's State Administration for Market Supervision (SAMR) regulatory agency, in a canned statement in Chinese.
It claimed this was a breach of the country's Internet Security Law of the People's Republic of China.
The news outlet said an administrative penalty warning was issued in addition to an order to the US parent firm to correct their network sins, handed to Walmart in "December 2021." There is no evidence of a financial penalty issued at this time.
The timing of the announcement is curious, as earlier in the week reports emerged in the Middle Kingdom that Walmart subsidiary Sam's Club was not stocking Xinjiang-produced goods.
Xinjiang remains an area of tension in US-China relations as the western world generally maintains that members of China's minority Muslim Uyghur population are being detained in heavily surveilled internment camps and subjected to human rights violations. China denies accusations of abuses in the region.
Sam's Club claimed in November to have sold over 4 million Chinese memberships in 36 stores across 23 cities, and said its e-commerce platform covered "most of the country." Sam's Club shoppers are now cancelling their memberships in their droves due to the domestic perception of playing politics, according to a recording of a local analysts' call cited by Reuters.
According to the newswire, the membership-only retail warehouse chain told analysts privately that the whole thing was a misunderstanding and the reason Xinjiang products didn't come up in the app was because it didn't have the functionality to search for products by names of places.
Nevertheless, at the end of December Sam's Club received a lashing from China's Central Commission for Discipline Inspection, accusing Sam's Club of "secretly" and "maliciously" removing the products and providing a "deceptive excuse" of items simply being out of stock.
"Removing all products from a region without a valid reason hides an ulterior motive behind it, exposes stupidity and short-sightedness, and is bound to suffer its own evil consequences," said the agency as translated from Chinese. The agency went on to accuse Sam's Club of adopting "dirty means to boycott" Chinese products and promised consumers would retaliate by withdrawing their patronage.
The statement then namechecked H&M and Intel as other "Western anti-China forces... that once flaunted no political interference [and] have punched themselves in the face with their own actions."
Last December Intel issued a statement that they regretted a letter to suppliers warning them to avoid labour or goods sourced from Xinjiang.
As China Quality News pointed out this week, Walmart already had several violations in the past year year that led to fines, including a ¥5,000 ($785) August 2021 fine for advertising naughtiness and ¥474 fine ($74) in November 2021 for poor "product quality." ®