This article is more than 1 year old
McAfee's and FireEye rename themselves 'Trellix'
To evoke support for growing things, not the 1990s vendor of web-pages-made-easy-ware
LogoWatch Newly combined security outfits McAfee Enterprise and FireEye have revealed a new name: "Trellix".
Readers may find the name familiar, as another tech company used the same name in the 1990s and early 2000s when it offered intranet and web published tools such as Trellix Web.
In 2001, this press release announced that Trellix had licensed tech from a company called Pyra Labs, which operated a service called "Blogger". Yes, that Blogger – the platform Google acquired in 2003 and which was quickly found to have serious security problems. A year after the Pyra Labs news, we reported that Trellix was acquired by Interland, which rated it as possessing "the best technology in terms of novice users creating professional quality websites".
Symphony Technology Group (STG), which owns McAfee and FireEye, doesn't want you to remember that incarnation of Trellix.
Instead it wants you to ponder "the structure of a trellis, a strong and safe framework used to support structured growth of climbing plants and trees". The x-factor is Trellix's plan to offer extended detection and response tech (XDR) that uses AI to enable "living security" that changes as needed … and of course is desperately needed given the hordes of threats hiding in the weeds of the internet.
Left unsaid is that trellises are often overwhelmed by the plants they support. Your correspondent has experience of watching woodwork endure slow strangulation and deformation by a large wisteria, and a rampant bougainvillea that sent a loved one to hospital …
But we digress. Trellix has sown its website with many references to the need for security to be a living, growing, thing, and suggested its products are just the fertiliser you need to harvest a rich crop of safety and compliance.
Trellix's logo speaks for itself – which is sad because The Register loves it when Brandologists attempt to explain their typographical choices.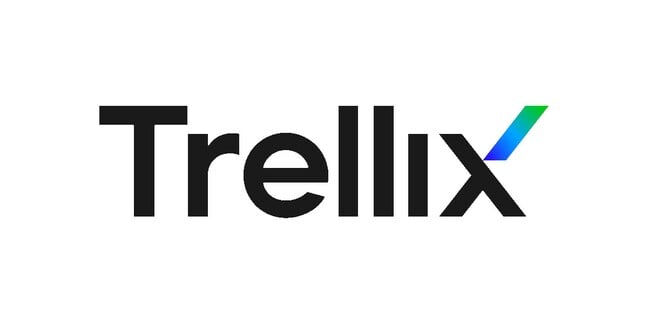 Trellix's logo. Click to enlarge
We may have another chance for that sort of thing soon, as STG has promised that later this quarter it will spin out a new company that will offer McAfee's Enterprise Secure Service Edge (SSE) Cloud Access Security Broker (CASB), Secure Web Gateway (SWG) and Zero Trust Network Access (ZTNA).
The McAfee brand will also live on, because the sale to FireEye covered enterprise products only. McAfee's consumer products will continue to be sold under the name of the company's controversial deceased founder. ®