This article is more than 1 year old
Sure, the James Webb Space Telescope is cool and all. But try making one out of Lego
Next: How to throw it a million miles without anything falling off
A double helping of plastic playtime this Monday as we honour the achievements of the James Webb Space Telescope by building one out of Lego and an ESA astronaut takes some Playmobil on a tour of the ISS.
Having constructed many examples of spacecraft and their infrastructure, the unfolding of the James Webb Space Telescope (JWST) and its successful insertion into L2 orbit seemed as good an excuse as any to raid the boxes of plastic bricks once more in tribute to the observatory and the brains behind it.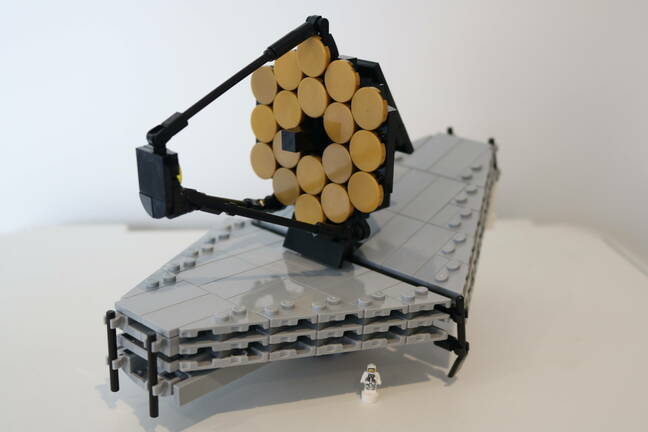 Click to enlarge
Lego does not currently have a model of the JWST (although there is an excellent example in review on the Lego Ideas site) but there are plenty of designs out there to indulge one's inner Master Builder.
Ours was from a design by WillM, although there are others available (including an impressive 1:25 beast on Rebrickable). This design is at a scale of 1:110 (the same as Lego's excellent Saturn V set) so requires less space on our overcrowded shelves. The part acquisition process is also good deal less spendy (we used Bricklink) and, aside from some of the gold discs, most of the components aren't too exotic.
Yes the mirror panels are round instead of hexagonal. However, at this scale we're not sure how they could be without some custom parts. The same applies to the Sun shield, and one can't help but hope that Lego will use material similar to that of the Hubble solar panels should an official kit appear.
Sadly, there wasn't all the articulation to simulate the deployment process undertaken by the JWST following launch, although the larger Ideas version looks like it might, should Lego proceed with it. That said, there were some very interesting build techniques and the components and payloads were clearly identifiable.
It also provided a useful jumping-off point to explain the purpose of the telescope, its engineers, and the hoped-for science to one's ever enthusiastic build buddy.
Playmobil In Spaaaaaace
While our Lego creations remain firmly on the Earth, we can't help but fondly remember when we sent Playmobil skyward. We were therefore delighted to receive a notification from the European Space Agency (ESA) regarding the presence of a Playmobil astronaut, decked out in the space agency's logo, on the International Space Station (ISS).
ESA's @astro_matthias receives a visitor on the @Space_Station and has an encounter of the 'ROBert' kind 😉 👉 https://t.co/e9pADFpcqu #ESAxPLAYMOBIL pic.twitter.com/ueCz8EUqlu

— ESA (@esa) January 27, 2022
ESA astronaut Matthias Maurer took the toy on a tour of the ISS as part of a bit of educational cross-promotion between the agency and toymaker.
In another experiment, Maurer has also deployed Duplo to demonstrate the Dzhanibekov Effect (named after Cosmonaut Vladimir Dzhanibekov). ®