This article is more than 1 year old
Comcast fixes broadband cables 'peppered' with holes after Oakland drive-by shooting
Bullet-proof hosting? Can't help you there. Will you settle for rapid repairs?
Comcast Xfinity technicians have restored service to customers in Oakland, California, after the ISP's overhead cables were seemingly pierced by gunfire early Sunday morning.
"The outage lasted from morning to early evening yesterday," Comcast California spokesperson Joan Hammel told The Register in an email, noting that the number of people affected fluctuated from 15,000 to 20,000.
The broadband service disruption came at a particularly bad time because it coincided with the widely watched NFC Championship Game between the Los Angeles Rams and the San Francisco 49ers.
The Oakland Police Department (OPD) told The Register in a statement that there is an ongoing investigation into an apparent drive-by shooting that occurred at 0330 PST on Sunday near the 6800 block of MacArthur Boulevard.
"Officers were dispatched to a ShotSpotter activation for 17 rounds," the OPD's said in its statement. "Upon arrival, officers located multiple casings, but did not locate anything struck. Video surveillance was recovered from the area showing an individual in a vehicle firing multiple rounds out of their window, into the air. There are no further details available at this time."
The OPD has asked anyone with information about the incident to get in touch with its Felony Assault Unit at (510) 238-3426.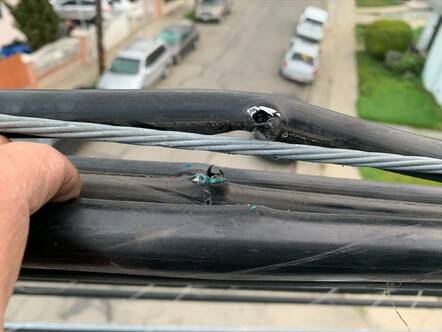 The shot-up cabling in Oakland ... Source: Comcast. Click to enlarge
Hammel provided The Register with a copy of a photo taken at the intersection of 69th Avenue and MacArthur Blvd showing one of the many apparent bullet holes noted by technicians. "Our team says the fiber was 'peppered' with holes," she said. "Residents also say they heard multiple gunshots at 0000 and again at 0300."
Hammel said Comcast personnel became aware of the situation somewhere between 0500 and 0800 on Sunday, adding that the company is cooperating fully with authorities to assist with the investigation. No injuries were reported in conjunction with the hail of bullets.
While gunfire isn't a common cause of network outages, it's not unheard of, at least in the US. On New Year's Day, bullets reportedly damaged Comcast network cables at two nearby locations in Rockford, Illinois. The affected cables are said to have been repaired by the following day. ®