Tesla to disable 'self-driving' feature that allowed vehicles to roll past stop signs at junctions
Slowing to a crawl like a human not actually allowed
Tesla will switch off a feature in its Full Self-Driving software, present in more than 50,000 vehicles in the US, that allowed the cars and SUVs to roll past stop signs at junctions without coming to a halt.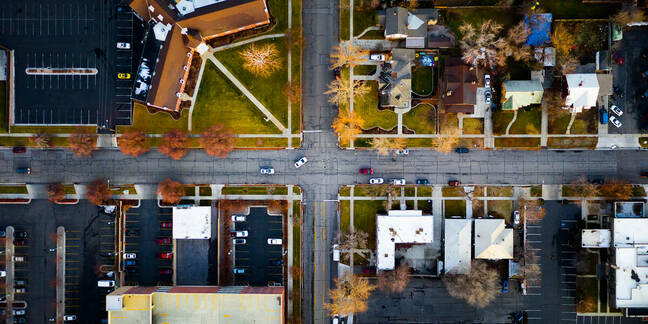 Aerial view of an all-way stop
According to recall documents on America's National Highway Traffic Safety Administration's website [PDF], Tesla has agreed to disable the feature via an over-the-air (OTA) software update. It is expected to begin deploying the update to affected vehicles in the next week or so.
It appears Tesla's Full Self-Driving (Beta) software included a feature that emulates driver behavior found to be common in some places in the US, but which is also against the law in most if not all states.
This is the practice of slowing to a crawl at a junction, and not actually coming to a complete halt. Instead, the driver is able to pick up speed again if the way is clear.
However, the NHTSA has taken the view that failing to halt for a stop sign at junctions could increase the risk of a crash, and sought meetings with Tesla to get it to change this feature. According to the documents, this covers the 2016-2022 Model S and Model X, 2017-2022 Model 3, and 2020-2022 Model Y vehicles.
The Associated Press reports that Selected Tesla drivers are effectively being allowed to beta test the Full Self-Driving software on public roads, as long as the owner enables the function.
Once enabled, the Tesla would be able to go through an all-way stop junction without coming to a complete halt. It would have to be traveling below 5.6 MPH (9 KPH) while approaching the junction, so long as no moving cars, pedestrians or bicyclists are detected nearby.
The incident is just the latest in the long-running saga of Tesla and its driver assistance software support. Last month, a Tesla driver was charged with vehicular manslaughter after a crash in Los Angeles in which the vehicle's Autopilot mode was engaged.
Last year, five police officers filed a lawsuit against Tesla after a Model X ploughed into two parked police cars in Texas, and Tesla was forced to pull the Full Self-Driving software from vehicles that were testing it after a number of issues were found.
Tesla has previously insisted that its vehicles are not capable of fully autonomous driving: "The currently enabled Autopilot and Full Self-Driving features require active driver supervision and do not make the vehicle autonomous." ®